The classic and popular mobility center under Windows 11 can be used, for example, to adjust the screen brightness or to see the battery status! 

If the mobility center is not displayed on the Windows 11 desktop PC, it is not an error, it does not appear here when starting and the error message  "Windows mobility center is only available on laptops."


1.) Starting the classic mobility center under Windows 11!
Use the Windows 11 Control Panel + F3 key search term
Mobility
Or
1. Windows + R and the direct command 
mblctr.exe
2. and you can use the mobility center
(
... see Image-1 Point 1 to 5
) 
Adjustments to the screen -Brightness, volume, ... etc., very simple and still useful under Microsoft's newest OS Windows 11!
(Image-1) Find and start the mobility center in Windows 11!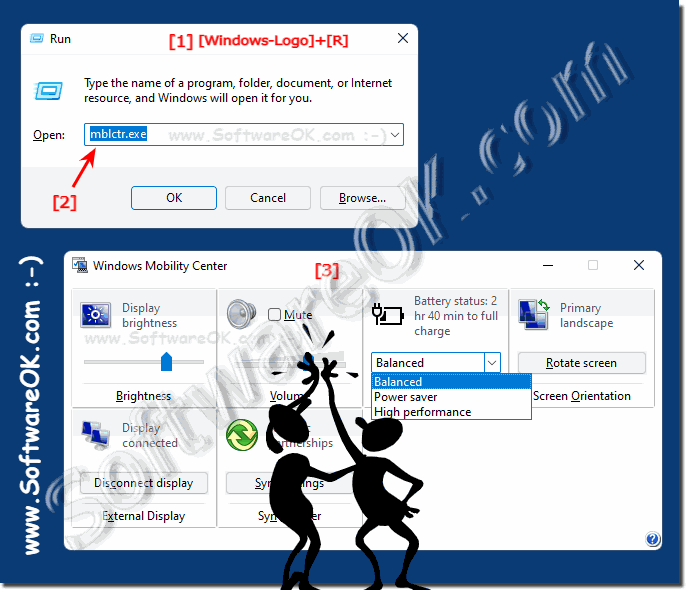 2.) Create mobility center shortcut on the desktop!
1. Keyboard shortcut
Windows + D
to focus the Windows 11 desktop
2. Click on a free space on the desktop
3. As always ► 
New
  ► Create
Shortcut
4. As target 
C:\Windows\system32\mblctr.exe
5. As a name for example 
Mobility center
(
... see Image-1 Point 1 to 9
)
(Image-2) Shortcut for the mobility center under Windows 11!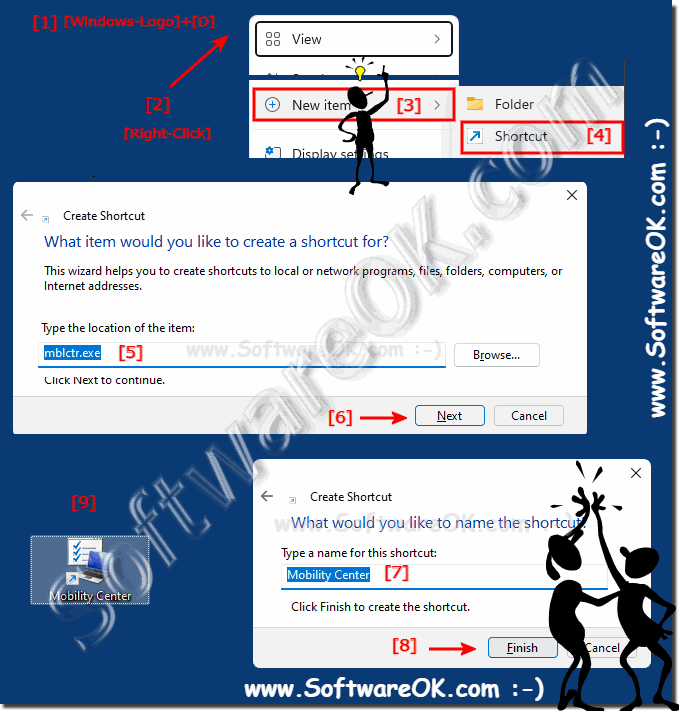 3.) Make the mobility center available in the Windows Start menu or taskbar!
If you have created the ►
Mobility Center shortcut on the desktop 

1. You can pin the Windows 11 start with a simple right click of the mouse 
2. After you have started the Mobility Center, you can also pin it to the taskbar with a right click!
(
... see picture-3 point 1 to 4
) 
Why not if it is possible, there are no restrictions under Windows 11, everything is possible if you know how to do it, so it is with the mobility center!
(Image-3) Mobility center in the Windows 11 taskbar and in the start menu!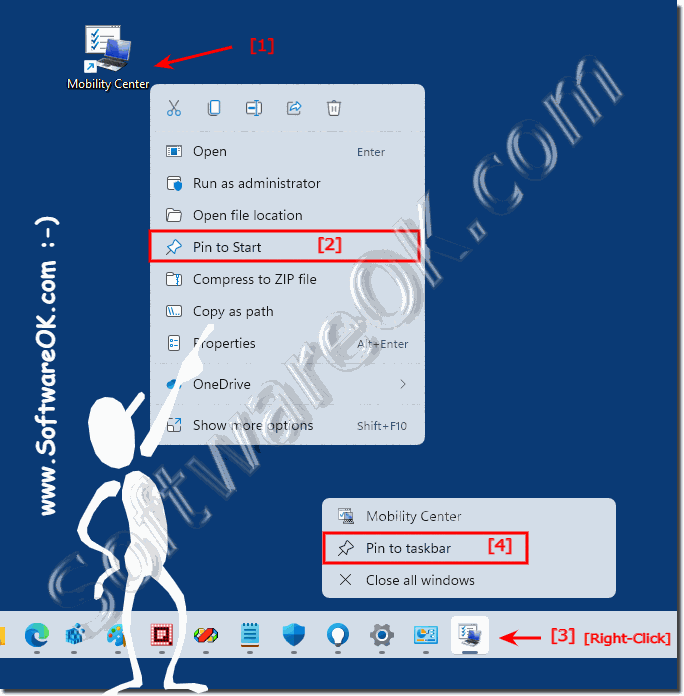 4.) The new mobility center settings on Windows 11!
1. Start
the Windows 11 settings
as always  (
Windows + i keys
)
2. Go to ► 
System  


3. Scroll on the right-hand side to ►
Power and battery
3. And that's how easy you get to the overview of the battery status  
(
... see Image-4 point 1 to 8
) 
You can also immediately adjust energy options to improve the battery life, with modern devices you can also work for over 10 hours in battery mode, Windows 11 is very energy-efficient!
(Image-4) Find the battery status and settings under Windows 11!