It is quite easy to see how long it takes until the battery is full or empty under Windows 11, on your NoteBook, tablet, laptop, etc. or MS Surface Pro and so on!
Problems?: ►► 
Estimated time of remaining battery life in the Windows 11 taskbar!
1.) Recognizing the loading and unloading times on Windows 11!
1. A simple right click on the battery symbol in the task bar 
2. Now simply open the energy and stand-by mode settings
(
... see Image-1 Point 1 to 8
) 
And you can see how long the Battery needs until it is full when it is plugged in, or how long it will last with the current average consumption!  
(Image-1) Detect the time until the battery is full or empty under Windows 11!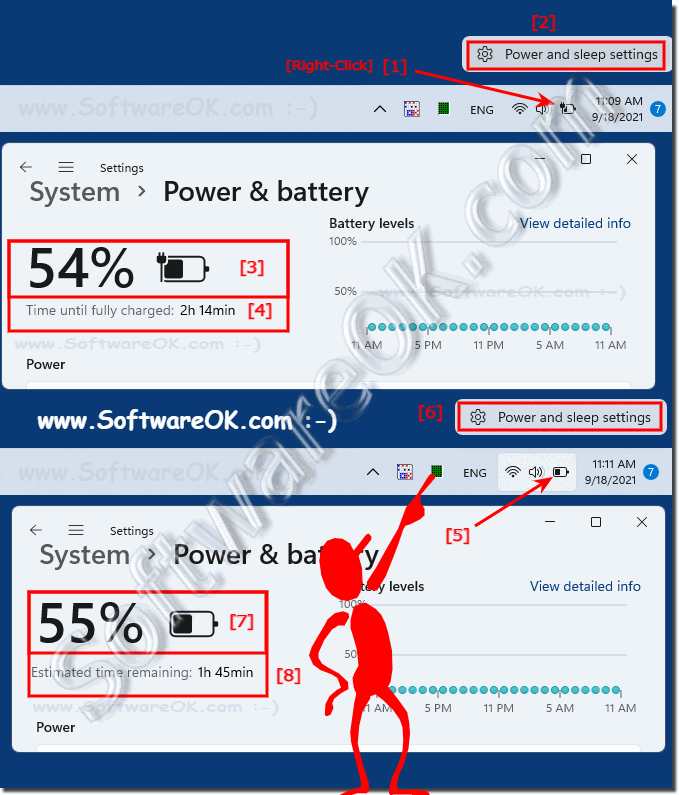 2.) What should be considered when charging and discharging the battery time measurement!
If the battery is to be charged quickly, it makes sense if possible not to use the device, depending on the device and the quality of the power supply unit and the battery, the battery is full faster!     
The battery time measurement is only an indication of how long the notebook, tablet, laptop, ... etc. needs with constant operation on the corresponding device!