The desktop calender does not need to be installed, so just delete the downloaded program file!


Content:

1.) If you don't like it, simply move the calendar to the trash!
Please close (exit) Desktop.Calendar.Tray.OK! 
Delete the Desktop.Calendar.Tray.OK.exe or DCT_OK.exe!

That's it!
See also: ► ... Open the program path via the Windows 10 Task Manager!

Please always use ... the latest version of Desktop.Calendar.Tray.OK for Windows!

Thus, one can test this calendar tool without hesitation, since no installation on Windows is required, and if it does not like, it can delete quite quickly.



(Image-1) Uninstall Desktop Calendar!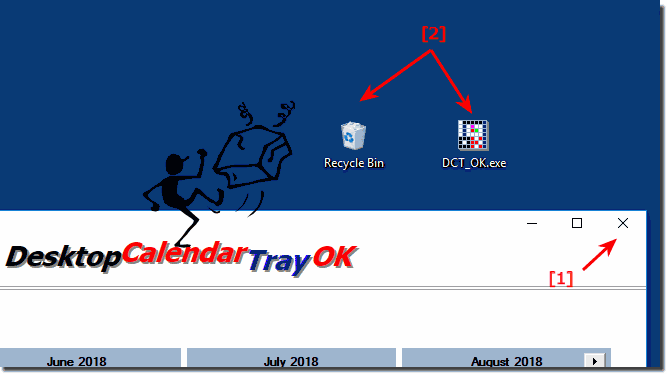 It is extremely convenient that this simple and easy-to-use desktop calendar does not need to be installed if you place it on the desktop after downloading without installing it. It can be used immediately on all Windows operating systems, just as quickly it is gone if you do not like it, just put it in the trash with it, and the calendar is gone.

The small desktop calendar is only intended to help you to find your way around the current date more quickly and to be able to plan appointments better. It is not a complex calendar program, it is oriented towards the basic function and that is the display of the current date and the difference to a certain date in the future or in the past.



2.) What happens if I uninstall the desktop calendar from the Windows desktop!

When you uninstall Desktop Calendar from your Windows desktop, different things happen depending on the calendar application you are using and its configuration. 

Uninstalling the program: The calendar application itself will be removed from your system and you will no longer be able to access it unless you reinstall it.

Depending on the method of uninstallation, certain user data and settings created by the application may remain on your system. These can be temporary files or configuration files.

Availability of Windows features: Some versions of Windows offer a built-in calendar. If you uninstall a standalone calendar application, you may also lose access to its associated Windows features.

Consider whether you really need to uninstall the application or whether disabling or hiding it is enough if you don't want to use it temporarily. 



FAQ 2: Updated on: 31 October 2023 10:39