To prevent unauthorized persons from gaining access to the Windows 11, 10, ... user account, you can set up the account lock under MS Windows OS!
Content:
1.) To do this, open the local Windows 11 security guidelines!
The best and fastest way is to start the run dialog with the shortcut [Windows logo] + [R]
and enter the command 
secpol.msc /s
!
Now click on Account Policies and Account Blocking Policies!
You now have the following options! 
Account lockout threshold
Specifies the number of unsuccessful logon attempts after which a user account is locked under Windows.
Account lockout duration
Specifies how many minutes a locked Windows user account remains locked before the lock is automatically unlocked .
Account Lockout Counter Reset Time
Specifies the number of minutes that must elapse after an unsuccessful login attempt on Windows before the counter for unsuccessful login attempts is reset to 0 invalid login attempts.
(Image-1) Set up user account lock under Windows 11!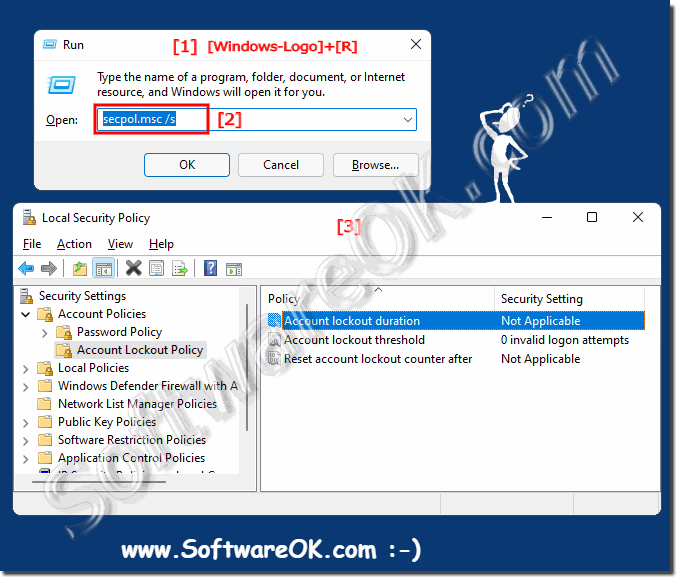 2.) Other similar Tips to Security on MS Windows 11 OS!
The security of your Windows 11 operating system is very important to protect your data and your privacy/data protection. MS is always working on security improvements in Windows 11. Please ensure that your Windows 11 and all installed applications are regularly updated to benefit from the latest security updates.
Download software only from official websites or app stores. Avoid downloading software from unsafe sources. Likewise, create regular backups of your important data on external drives or in the cloud so that you can restore it in the event of data loss. Privacy settings, check your privacy settings and limit apps' access to personal data.


Tips to improve security on Windows 11: