The solution is very simple to remove password prompt in Windows 10, turn off from hibernation, or sleep mode, or activate again if needed!
This example is a easy solution for all Microsoft Windows operating systems not only for windows 10 you can use this for other Windows web Server OS for example Server 2019, 2016 is not only for
Windows Administrators
this is also an Example for
Windows 10 Home Accounts
!
1.) ... New Solution for Windows 10 from 2010 to > 2020 or Windows 11!
Resume from Sleep without Password is also in Windows 10!

1. Please open the Windows 10 settings, for example by using Windows-Logo + i Keyboard Shortcut.

2. Please click

"Accounts"

 and

Sign-in options

.

3. And change

Require sing-in

to Never. 

(... see Image-1 Arrow 1 to 4)

It's so easy on the new Microsoft Windows 10!




(Image-1) Disable Password when resume from Sleep in Windows 10!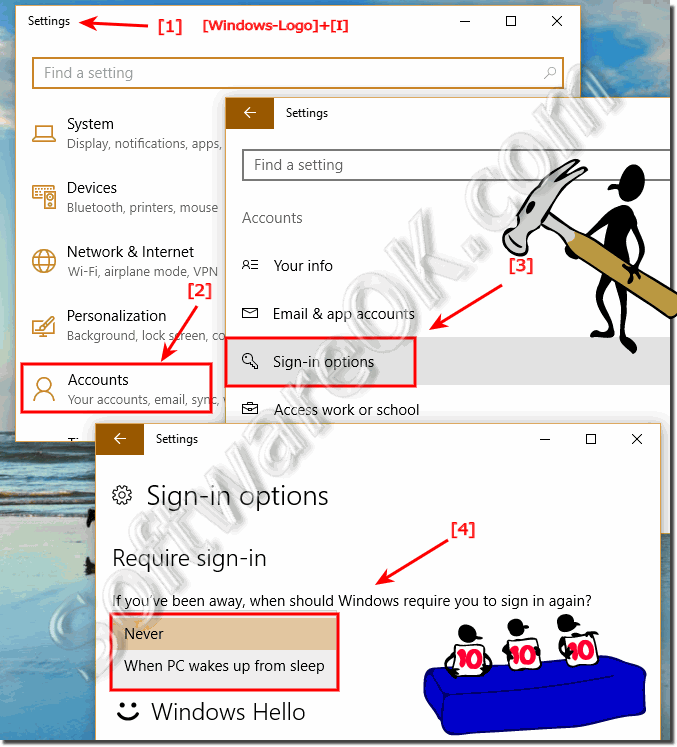 This example is for all Windows 10 Home, Pro, Enterprise, ... 



2.) Old Solution for older Windows 10 Home / Pro and some MS Server OS!
The Location in Windows-10 Control Panel is:
Control Panel\All Control Panel Items\Power Options\System Settings

1. To directly open Password Protection on wakeup,

2. Please press the key combination [Win-Logo]+[R],

3. then just type the command:
control.exe /name Microsoft.PowerOptions /page pageGlobalSettings
(... see Image-2 Arrow 1 and 2)

If the options are grayed out, then please click on the text:

"Change settings that currently unavailable"

 and activate the option Don't require a password
(... see Image-2 Arrow 3 and 4)

Info:
When your Windows-10 computer wakes from sleep, anyone can access your data because the computer isn't locked.



(Image-2) Disable Password Query in Windows 10!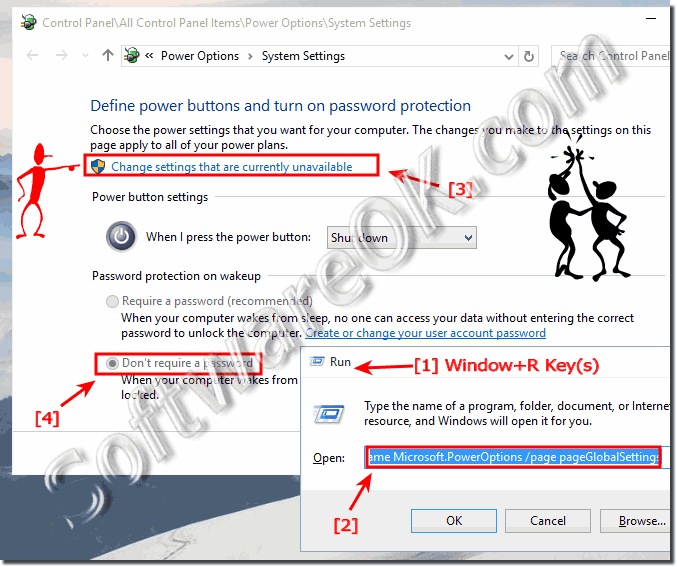 It is very convenient that in Windows 10, instead of turning off the computer each time, you can simply put it to sleep by pressing the appropriate hibernation button.

How to enable sleep mode, how to disable it, what problems an ordinary user has when working with it: ► Hybrid Sleep Settings in Windows 10 (turn on, off)?



3.) ... Because Windows 11 looks a little different! <<< new


It is easy to deactivate the password / password entry after standby / hibernation even under Windows 11!

1. Open the Windows 11 settings as usual (Windows + i)    

2. Then go to Accounts > Login options

3. When should Windows request login again after being away:> Never  

(... see Image-3 Point 1 to 4)


 Start > Settings > Accounts > Sign-in options
(Image-1) Windows 11: disable password after standby and hibernation!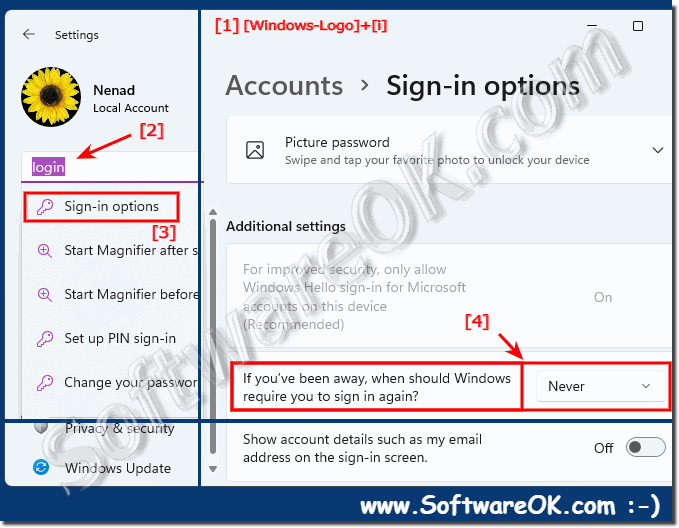 FAQ 59: Updated on: 25 August 2023 12:14