Delete non-erasable files if restarts the MS Windows 11, 10, ... PC and Server! 

Update on: 22 August 2023
Suitable for : Windows 11, Windows 10, 8.1, 7, ... , Server 2012-2019, 2022, x64, x32, x86

Delete.On.Reboot is a small and effective freeware program when it comes to deleting non-erasable files, directories, subfolders in an elegant way on Windows computer restart.


Unlike the aggressive approach of deleting locked files with ThisIsMyFile, this is the regular procedure; provided by Microsoft on all Windows OS, but here you can still also move the files to a directory for example to check the possible culprits files. easy to use! 


Delete at restart key features:


◆ Administrative Explorer
◆ Administrative Explorer with System Rights
◆ Move and Delete on Restart 
◆ Remove Windows Standard Delete Jobs


Other possibilities and specifications

◆ Very small program

◆ Low CPU usage

◆

Category Automation

◆ Optional translation function

◆ Portable
◆ Freeware
◆ Multilanguage


A very small "Reboot - Delete Tool"




Optionally, you can add the freeware tool to the Explorer context menu via the Extras menu, all objects in the list view will be deleted from the Windows PC when restarting. If necessary, objects that should not be deleted can be removed from the list view so that they are not deleted when the Windows PC restarts. Optionally in the download area is the installable and portable version.


Created on request of the user, I worked hard and equipped it with a few extras. According to personal needs and the ideas of the users to this Windows tool it is still extending. Have fun with this nice Windows tool that will spare you some maneuvers under Windows. With under 300 KB a very small software, which is not wasting space on the hard disk, it can be deleted / removed at any time.


A simple example of using the "delete at reboot tool"
Especially with icons cash (cache) and the thumbnails it comes to Faulty icon display or thumbnails in the Explorer window. You can google and googling or binging to get it on board. These files can now be practically
wiped whit a click at Windows restart
. 
This is only an example, but there are several files and folders log-, cache-, files or / and files in use! 
I am always open to suggestions and tips. 
(Image-1) Delete files and folders when restart the Windows PC!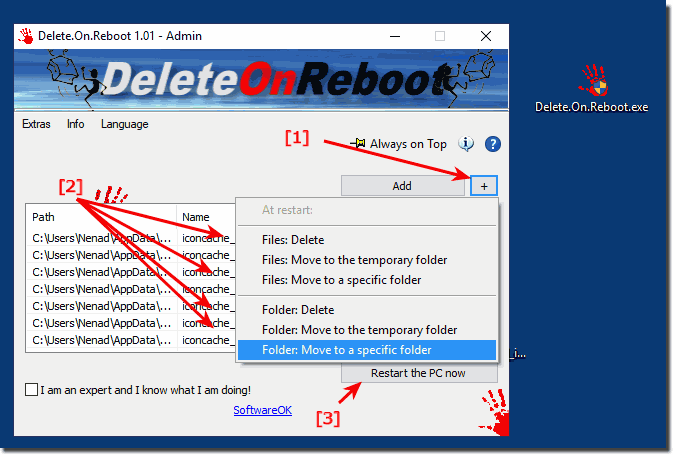 The "Delete on reboot tool" installation

Delete.On.Reboot.exe. You do not necessarily have to install the Delete.On.Reboot Tool, you can simply place Delete.On.Reboot on the desktop and drop files onto Delete.On.Reboot.exe so that you can work / delete it without installing it is immediately usable on all Windows operating systems. Thus it can be used under Windows as a portable application.
# Delete.On.Reboot Versions History
New in version 3.29 // 22 August 2023
New code sign certificate for Delete.On.Reboot.exe
Important tests of Delete.On.Reboot APP for next MS Windows 11/10 update
Update of language files in Delete.On.Reboot application



New in version 3.21 // 2 June 2023
Small tests and adjustments for the new MS Windows 11 update
Updated language files in Delete.On.Reboot for all Windows operating systems



New in version 3.11 // 11 November 2022
Review and test of Delete.On.Reboot on Windows 11 22H2
Small adjustments in Delete.On.Reboot and update of the language files



New in version 3.01 // 15 July 2022
Small fixes and tests for new MS Windows 11 and 10 Build
Update of the language files



New in version 2.66 // 30 April 2022
Increasing the system rights in Delete.On.Reboot for all MS Windows OS
There should be no problems with deleting the system files
Please be careful when deleting the Windows system files


... complete Versions History
# Delete.On.Reboot is multilingual and a popular program worldwide:
Program Keys:
Used and Supported Operating Systems
This elegant Delete.On.Reboot freeware: 
is a simple, but at the same time nice extension for the standard Windows file explorer with different possibilities. Please 
download Delete.On.Reboot
 and start it, for example, from the Windows 10 desktop. The software is suitable for all Windows operating systems, x64 and x32!     
Is the software free for commercial use!
Yes! the software Delete.On.Reboot is also free for commercial use and free of charge


* Delete non-erasable files if restarts the MS Windows 11, 10, ... PC and Server! 
---
Images+ # Thanks+