Update on: 29 November 2019
Suitable for Microsoft : Windows 10, Windows 8.1, Windows 8, Windows 7, Server 2000-2016, XP, Vista, x64/x32/x86

ColorConsole brings a little color to your black and white world of Windows console (cmd.exe), it is an alternative to the standard cmd!


One can save many hand moves and also time!
An installation of Color-Console is not required and can be executed easily from the desktop.

ColorConsole is a good alternative (

extension

) to the standard Windows operating system command prompt console. The program has a nice interface, there are customization for fonts and background from the selected colors, the fast switch for example the directory tree, export sessions in the HTML file or RTF document and much more.

It is possible to open multiple input screens, switch via tabs interface, and view in MDI format. Therefore, it is possible to use another command while executing the command prompt result of a particular command.

# Features:

• Prompt Favorites commands
• Easy export to HTML and RTF
• Full Copy, Paste and Cut Support.
• Changeable font style and color
• Tabbed working with multi cmd.exe.
• Fast change directory command.
• Portable tool
• Power Shell commands support on Windows 10 / Server 2016!

# Usage:

Suitable to be able to deal with the command prompt commands on all Windows Systems. However, requires the knowledge of an experienced user to use it effectively and correctly. The user has the ability to enter commands through a responsive field and a fast mode to navigate through internal directories. Color Command Prompt Console is a portable application, so it will not conflict with system Command Prompt.

# Installation:

ColorConsole does not require installation, can easily be launched from the desktop with no installation and is ready to use on all Windows operating systems as an extension for Command Prompt. For portable use: Please create Portable ColorConsole.ini in Work Directory! 



# ColorConsole Versions History


New in version 4.14 // 29 November 2019
General optimization and small corrections in the ColorConsole.
New language in the Color Console: Spanish
 
Thanks to Juan José Pérez Ruiz for the Spanish language.



New in version 4.11 // 28 October 2019
Small improvements in the colored cmd
Testing and Verification for Windows 10 November 2019 Update Build 18362
New languages in Color-Console: Turkish
    
Many thanks to Tarkan@Dost for the Turkish language.



New in version 4.03 // 24 July 2019
Small improvements.
New languages in Color-Console: Korean
Update of the Language Files
***
Thanks to VenusGirl~💖 for the Korean language.



New in version 4.02 // 19 July 2019
General optimization and small improvements.
New languages in Color-Console: French and Russian
***
Thanks to Bonvivant for the Russian language.
Thanks to Drake4478 for the French language.



New in version 4.01 // 15 July 2019
Big revision of the ColorConsole
New:
- Installation and uninstallation function
- Full support for multiple languages
- Optional translation option
- Improvements in the command interpreter
....
Many more improvements in the next 4.xx versions
I am open to improvement suggestions




... complete Versions History




# ColorConsole is multilingual:

 

# Infos

Consolen Commands
Index: Consolen Commands
Index: XP NetSH
Index: Vista NetSH
(de) Windows PowerShell 2.0
(en) Windows PowerShell 2.0

Program Keys:


Operating systems:
Windows 10, Windows 8.1, Windows 7, Windows Server 2000, 2008, 2016, Windows XP, Ultimate, Pro, Enterprise, Home, Business, Edition, 64-bit & 32-bit edition
Multi-tab ColorConsole is a colored medicine for the cmd.exe!

Listed at: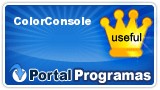 * Color Console ergo CMD.EXE alternative for Windows OS!
---
Thanks+