The solution is simple to Remove Spotify from Windows-11/10 Autostart, delete, remove , disable or uninstall!
Content:
1.) Banish Spotify from Windows-10 autostart!
The Windows 10 Task Manager is the best to 
Remove Spotify
from the startup under Windows 10. It can easily be found by pressing the key combination
[Ctrl+Shift+ Esc]
or via the Start menu. 
Enable and disable the 
Spotify App
, open the path to the file of your interest or, if necessary, find information about this 
Spotify
 program in the Internet. (
... see Image-1
) (
... see Image-2
)
(Image-1) Remove Spotify from Windows-10/11 Autostart!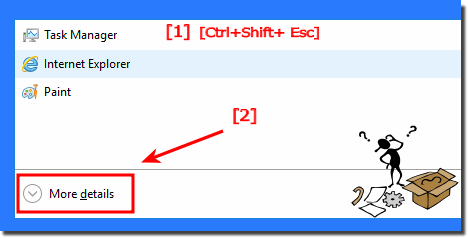 (Image-2) Remove Spotify from Windows-10 Autostart!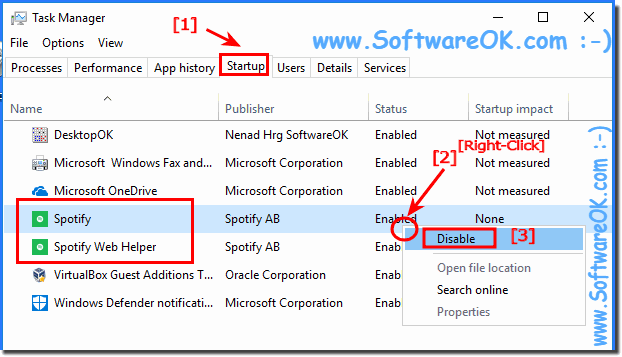 2.) Better is to Spotify completely uninstall from Windows 10/11!
To uninstall Spotify, press Windows-Logo + Q shortcut key enter the text Spotify and simply uninstall Spotify from your Windows PC!
 Anybody can remove or uninstall Spotify without much knowledge from the Windows PC!  
(Image-3) Uninstall Spotify from Windows-10!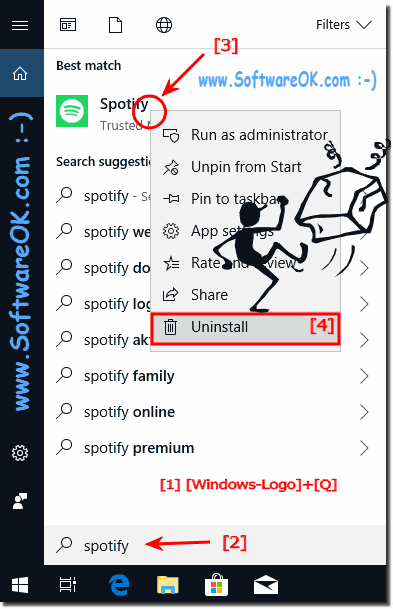 3.) Is Spotify a virus, trojan or spyware?
Spotify was created by the company Spotify AB based in Stockholm, Sweden, as a legal alternative to the piracy of music without any profit intentions ;-). As of 2015, Spotify will apply new privacy policies, photos and contacts shared with Spotify, access to your microphone and your current location data and that on any device where you install Spotify app your personal information may be collected and used by Spotify in Stockholm. Supposedly to improve the services so that you have better personalized!