If you watch a video you can realize TV sleep function with "Please Sleep" in "Do not Sleep"!




A sleep timer is a feature on many modern TV and other devices and is available from Version 4.24!

  

Content / Solution / Tip:


See also: ► Please Sleep Feature in Don't Sleep ► How do I get rid of Don't Sleep?

1.) The TV / Video sleep function!
Please change (ergo switch) to sleep mode (... see Image-1 Point 1) 

Set the timer for monitor and computer, here in the example for a movie length of 90 minutes.
(... see Image-1 Point 2 and 3) 

And enable the appearance of the message before goes to standby and when it should appear
(... see Image-1 Point 4) 

When the message appears you can confirm with OK.
(in this case, 2 minutes before the timer expires)

Or reset the timers with Cancel!




(Image-1) TV or Video sleep function with please sleep in Don't Sleep!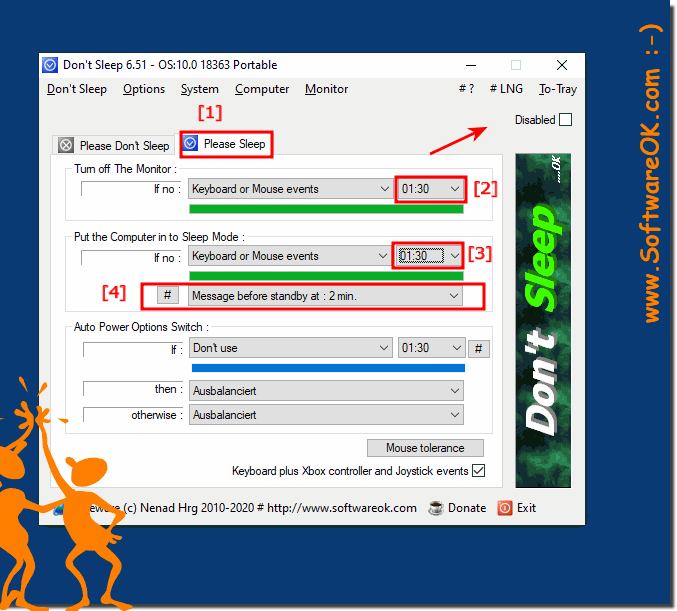 2.) Start the sleep function about program Arguments!
Here are the program arguments for ► ... the TV sleep function example.

enable=1 Enables or disables DontSlep (1/0)



please_sleep_mode=1

sleep mode or not sleeping (1/0)
See: ► ... please sleep in Do not Sleep!

computer_mode_slep_sec=3000 Timer for computer Sleep mode in seconds
 
monitor_mode_slep_sec=2700 Timer for monitor sleep mode in seconds



upcoming_slep_message=1

Display notification on screen (YES / NO)

upcoming_slep_message_sec=120 Display notification / message 120 seconds before expiration.

If ergo this is set to 120 seconds, a notification will be displayed on the screen within 2 minutes before the expiration time. To for example prevent the computer to going into sleep mode.


Please use ... always the latest Version of Don't Sleep! 

See also:
► How do I get rid of Don't Sleep?
► The timer can not be set to prevent standby, why?



Finally,

not only at, Samsung, LG, Sony TVs, you can set a sleep timer, so your PC does not go through all night, for example, if you use the elegant solution that is not only written for Windows 10, you can use this example as a Sleep Timers easily for earlier versions of Microsoft's Windows operating systems, whether it's a native Windows desktop machine, a tablet PC, Surface Pro / Go, or even an MS Server operating system.








FAQ 13: Updated on: 23 May 2022 15:09