New from version 1.67: Set the default text for the desktop sticky note on all Windows desktop 11, 10, ... etc. and MS Server operating systems!

Currently it can be done via the entry in the ini file!
For example:
m_default_note_text=sticky note %d
In place of %d the consecutive number of the Windows desktop note appears!


Standard text for the desktop sticky note, step by step


1. Start the Windows sticky notes program (as usual)! 

2. Open the main menu

3. Open the DesktopNoteOK.ini file

4.

Enter

your standard text for the desktop "

sticky 

note %d"



5. Save the changes in the DesktopNoteOK.ini

(... see Image-1 Point 1 to 4)




(Image-1) Standard text for the desktop sticky note under Windows 10, 8.1, ...!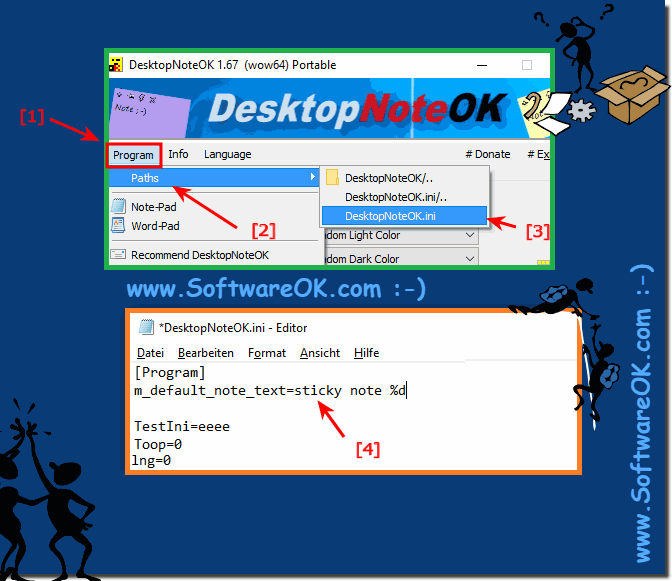 Info:

Windows 10 offers the option of using the "Sticky Notes" app to create desktop notes to promote productive work. You can use it, for example, to write shopping lists or simply write down ideas quickly before you forget them. The app supports the input of information via the keyboard as well as via touch screen or pen. The software automatically recognizes certain key words such as email addresses, web links or telephone numbers. This also works with handwritten texts. In these cases, "Microsoft Sticky Notes" suggests you send an e-mail or call a contact via Skype, for example. You can deactivate this configuration at any time in the options. The notes can be placed anywhere on the desktop and adjusted in size. To better differentiate between to-dos, choose from one of six different color variations.



FAQ 9: Updated on: 31 August 2023 10:28