The mouse pointer shadow can be easily activated on Windows 10 or 11  and deactivated again if necessary! 
Content / Solution:

The solution to activate the mouse pointer shadow in Windows 10 or 11, is also an example for others Microsoft operating Systems Web Server 2019 / 2016! 


1.) Change or enable the Mouse Pointer shadow!
If you want to change or enable the beautiful and subtle Mouse pointer shadow please open the Mouse Properties in Windows 10 and 11.

The fastest Way is via the windows-10 Run Dialog Windows-Log+R keyboard shortcut and the command: main.cpl.

Please select the Tab Pointers and

Enable pointer shadow

 (... see Image-1)




Tip:

In addition, under Customize, you can click a mouse pointer type and then choose Browse to choose a new pointer image. In this way, you compile your personal pointer collection, which you can then save as a custom scheme with 

Save As

. (

... see Image-1 Point 7

)




(Image-1) The Mouse-Pointer Shadow in Windows-10!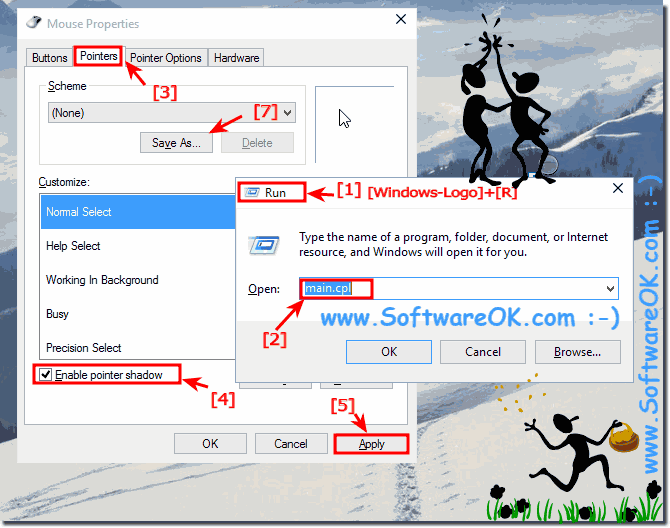 How to deactivate the shadow of the mouse pointer in Windows 8 is explained in this practical tip. This removes the grayish haze that marks your mouse pointer. Depending on the application and eyesight, the setting helps to find the mouse pointer. Example / Explain how to deactivate it.


2.) Create Desktop Shortcut for Windows Mouse Settings!

Please start the MS-Explore from Window 10 Run Command (Windows+R)  and enter the  command:
explorer /select, %WINDIR%\System32\main.cpl

This command will auto select the main.cpl in

C:\Windows\System32\

 folder.

And now simply use Right Mouse Drag&Drop and rename the Desktop Shortcut for example to Mouse Setup on you Windows 10 Desktop. That is a fast and simple solution :-) 



(Image-2) Mouse Settings Desktop Shortcut on Windows-10!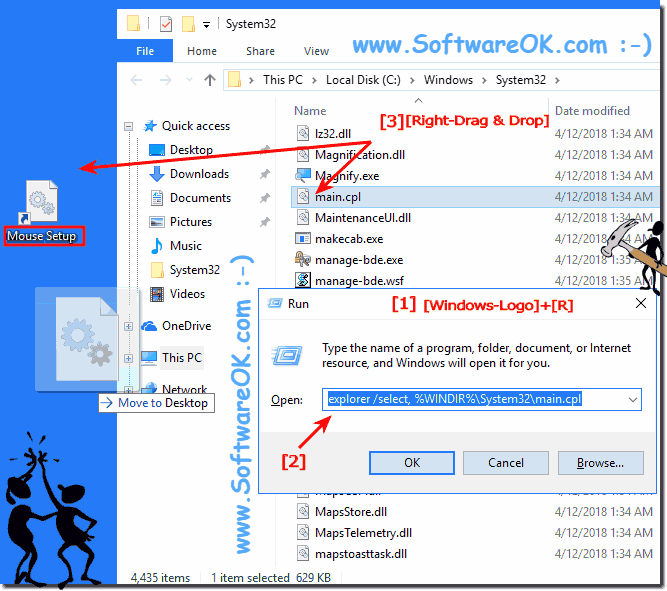 FAQ 102: Updated on: 25 August 2023 12:26