The solution to start the alternative Explorer Q-Dir for Windows with the last Explorer View settings and Columns plus Window position!


Content:


1.) When you will start Q-Dir with last view, select the option over the main menu! 
► 

Extras

 ► 

Start as

 ► 

Use last view

 

please also check the option: ► 

Extras

 ► 

List-View

 ► 

Save Columns



and the window position: ► 

Extras

 ► 

Q-Dir always ...

 ► 

Last Window Position



Please use always: ... the latest ergo newest version of the Alternative Windows Explorer Q-Dir!

See also: ►  disable Auto-Expand of Folders ► Address Bar rules ► disable Auto-Expand of Folders 

The screenshot is from the new Microsoft OS Windows 10 but this also works on all other Microsoft's (c) OS!



(Image-1) Start Q-Dir with last setting on Windows!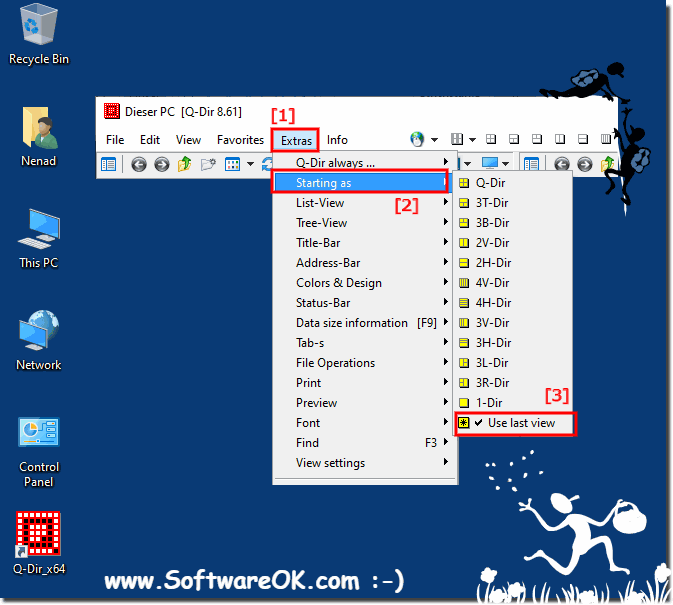 2.) ... Problems with Desktop favorites and desktop shortcuts!


1. ►► If you create Desktop Buttons / Favorites 4 Q-Dir

2. Please don't forget the Favorites Save options




(Image-2) Start with last setting from a Desktop Button Ergo Favorite!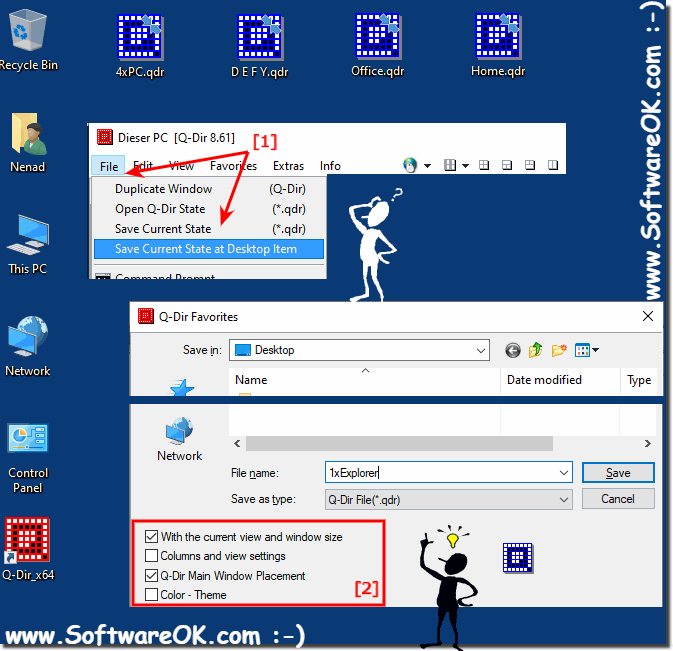 3.) Other features how to Save All Explorer View Settings on Windows and ... so!
4.) The old Screenshot of Quad-Explorer Start Settings!
The Old Screenshot from Windows  XP ;-)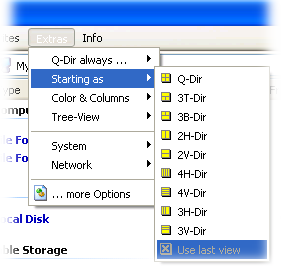 4.)... Why doesn't Q-Dir save the Explorer settings when I restart Windows?
As a rule, Q-Dir saves the settings when Windows is restarted, Windows sends the exit command to all programs and that the system is restarted.  
At this point the last setting is saved, check whether any programs prevent commands from being processed correctly in Windows!
FAQ 7: Updated on: 31 January 2021 12:50