The solution is simple to disable this feature in the Stop Watch to stops the countdown at mouse click!




 

Content:



1.) Cancel countdown with a mouse click on Windows 11, 10, ... etc.!
1. Disable this feature in OnlyStopWatch

2. Via Menu, Program, "Continue/Stop at mouse click" 

(... see Image-1 Arrow-1)



(Image-1) Stops the countdown via mouse click in Stop-Watch!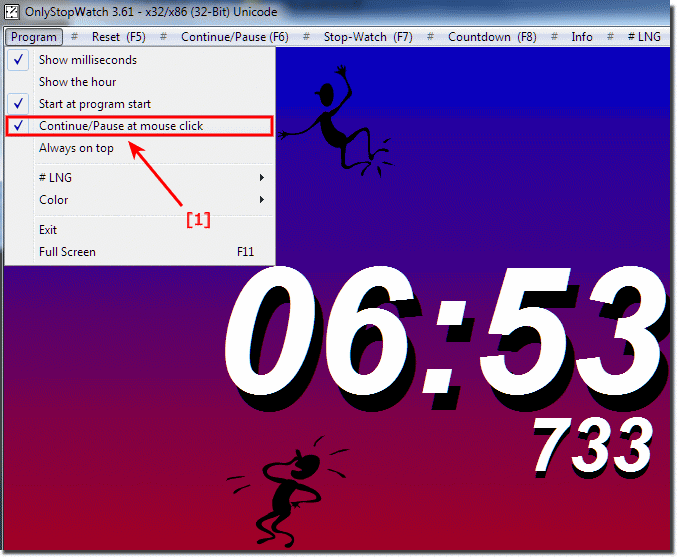 Alarm clock, countdown timer, stopwatch
2.) Which files (Sound1-5) does the program access?
It's the ► Windows system sounds



1. MB_OK

2. MB_ICONSTOP

3. MB_ICONQUESTION

4. MB_ICONWARNING

5. MB_ICONASTERISK






void PlaySound(int m_system_sound)

{
int m1=m_system_sound;


if(m1==0)::MessageBeep(MB_OK);
else if(m1==1)::MessageBeep(MB_ICONSTOP);
else if(m1==2)::MessageBeep(MB_ICONQUESTION);
else if(m1==3)::MessageBeep(MB_ICONWARNING);
else if(m1==4)::MessageBeep(MB_ICONASTERISK);
else ::MessageBeep(MB_OK);

}









FAQ 3: Updated on: 24 July 2021 09:22