The Photo Resizer for all Microsoft Windows Desktop and Server OS!

Update on: 22 August 2023
Suitable for : Windows 11, Windows 10, 8.1, 7, ... , Server 2012-2019, 2022, x64, x32, x86

A tool that allows you to quickly reduce your photos in file size so as not to distribute your originals on social platforms!
Even as a beginner, you can get started right away without having to deal with complex image and photo knowledge! But also good for professional photographers who want to quickly distribute copies of their original RAW image data as reduced JPG images! 
The key features in the image reduction tool
◆ Converting the images to other file formats 
Other features / specifications:
◆ Low CPU usage
◆ Optional translation function
Why and for what purpose the photo reducer 
For example, if you have
removed duplicate images,
some images remain on the hard drive, some are not that important and you don't want to delete them! Then you can possibly reduce the size so as not to flood the hard drive unnecessarily!
For example, if there are 10,000 5 MB images each, i.e. 50 gigabytes, you can usually reduce these to 10% or 5% of the original file size without major losses, i.e. only 5 or 2 gigabytes!
Or you want to downsize your original photos and watermark them on social media before uploading them!
A simple example of usage 
After
downloading PhotoResizerOK
you can simply place it on the desktop from the zip folder with less than 500 KB it is no burden!
Now you can start the program directly and add it to the Explorer menu, mark your photos in the File Explorer or in the Quad Explorer and send them to the PhotoResizerOK with a right click!
Now simply select the desired options (reduction, format, ...) and press the "convert" button.  
The folder with the reduced images will then be opened automatically!
(
... see Image-1 Point 1 to 3
)
(Image-1) The Photo Resizer for all Microsoft Windows Desktop and Server OS!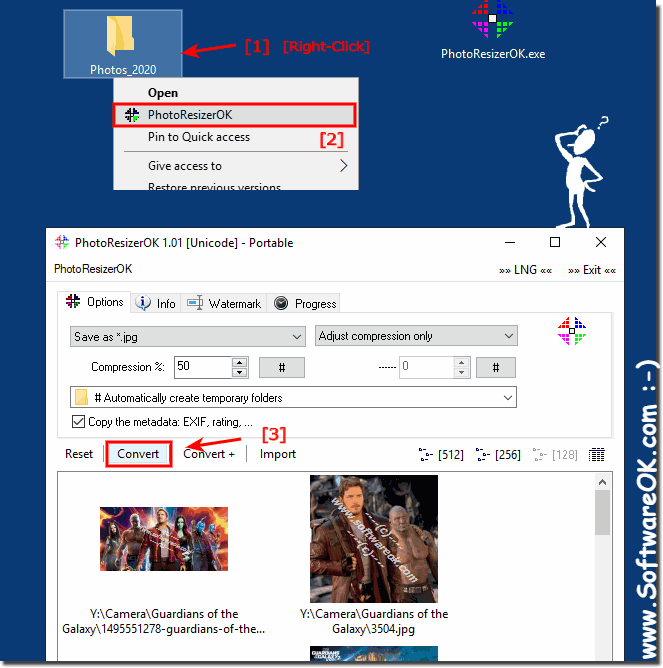 The installation and portable Version 
The image reduction tool does not have to be installed, can be started comfortably from the desktop without installation and can be used immediately on all Windows operating systems.
For portable use, add a "_p" to the 
execution
file, which makes it practical for use on a
USB stick
!
(Image-2) Make the photo resizer portable for all Microsoft Windows OS!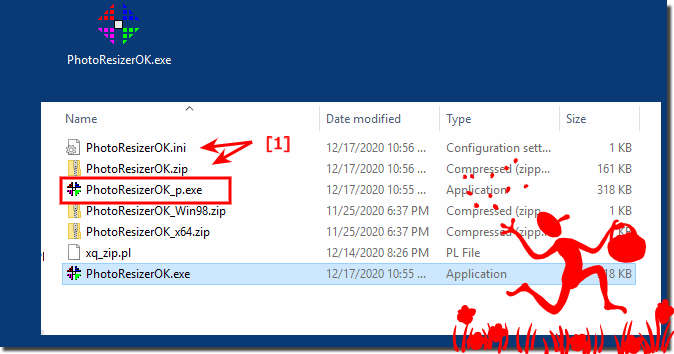 # PhotoResizerOK Versions History
New in version 2.88 // 22 August 2023
New code sign certificate for Photo.Resizer.OK.exe
Important tests of Photo.Resizer.OK APP for next MS Windows 11/10 update
Update of language files in Photo.Resizer.OK application



New in version 2.81 // 3 June 2023
Small tests and adjustments for the new MS Windows 11 update
Updated language files in Photo.Resizer.OK for all Windows operating systems



New in version 2.77 // 16 November 2022
Photo resizer / converter verification and test on Windows 11 22H2
General corrections and small adjustments in Photo.Resizer.OK



New in version 2.55 // 30 July 2022
Bug-Fix in: Convert or scale WEBP images on Windows
Important update of the language files



New in version 2.45 // 16 June 2022
Small adjustments in the Photo-Resizer for all Microsoft Windows OS
New languages in the Photo Resizer app: Turkish

Many thanks to Ismet Çakir for the Turkish language


... complete Versions History
# PhotoResizerOK is multilingual and a popular program worldwide:
Final word!
The reduction of pictures in Batch processing can be so easy with this small Windows APP. 

To reduce the photos suitable for beginners, but also for professionals and photographers, as it supports the RAW image data format and can copy EXIF ​​image information if necessary!
Simply drag and drop the files onto the program or the program icon on the desktop. Then press "Convert". The photo files are converted. You can choose a folder to save the files anywhere you want. You can also drag and drop them directly from the list view into a folder in Windows Explorer.


In the list view you can copy the images to the clipboard by right-clicking as an image or Base64! 
* The Photo Resizer for all Microsoft Windows Desktop and Server OS!
---
Info+ # Thanks+