It is easy in MS Office Excel to separate cells in the table that are connected / merged and to reconnect them if necessary!



Content:

1.) The separation of the connected cells in MS Excel!
To resolve cells in Excel, if you changed your mind immediately
after merging cells
, you can quickly remove them by pressing the shortcut Ctrl + Z, or clicking the Undo button on the Quick Access Toolbar.
To separate the previously merged cell, select the cells and click
Merge and
then center on
Unlink
(Image-1) Unmerge Excel cells in table that are merged!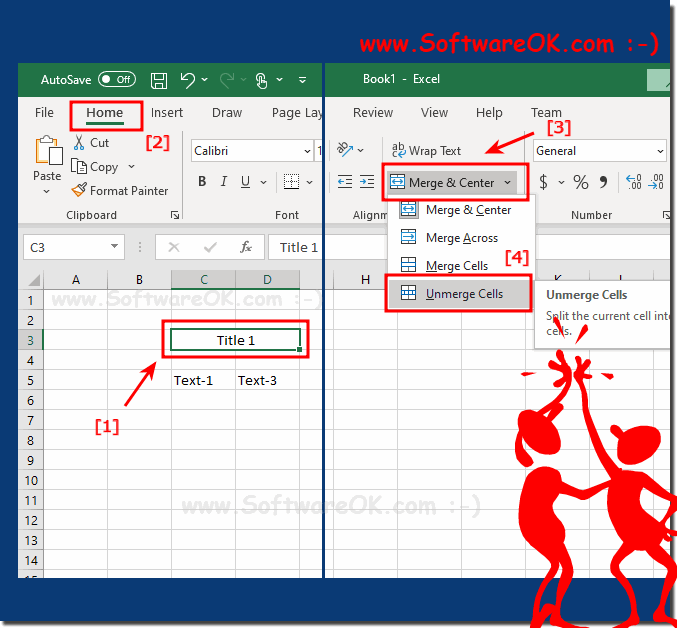 2.) Merging cells in MS Excel!

Often times in your Excel worksheets, you may need to merge two or more cells into one large cell. For example, you may want to combine multiple cells for better data presentation or structure. Other times, there may be too much content in one cell and you want to merge it with adjacent blank cells.



The quickest and easiest way to combine two or more cells in Excel is with the built-in Merge and Center option. The whole process only takes 2 quick steps:

 

1. Select the contiguous cells that you want to combine.


2. On the "Home"  page tab> Alignment group, click the Connect and Center



(

... see Image-2 Point 1  to 4

)

In this example, we have a list of fruits in cell A1 and we want to merge them with a few blank cells to the right (B4 and C5) to make one large cell that fits the whole list.




(Image-2) Merge Excel cells in the table!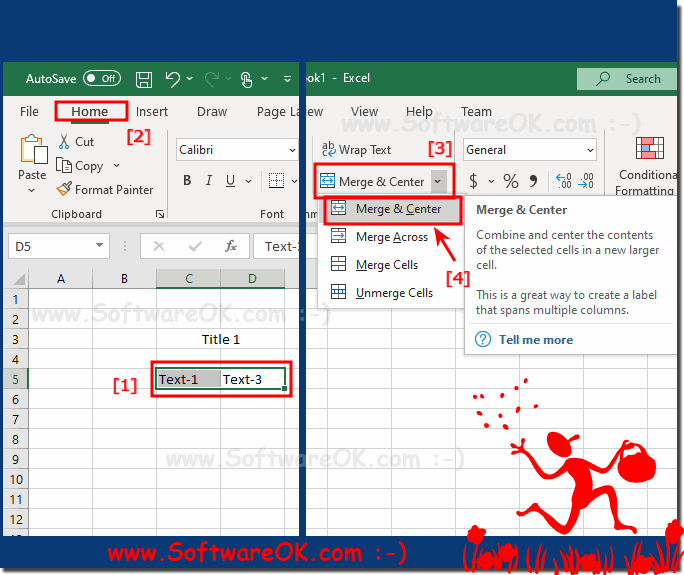 3.) ... What should I watch out for when merging cells in Excel?


It goes without saying that merged cells can help make the information in your Excel worksheets better and more meaningful. However, they lead to numerous side effects that you may not even notice.


For example:
- You cannot sort a column with merged cells.
- Neither the auto-complete function nor the flash preview function works when a range of cells to be filled contains merged cells.
- You can't turn a range with at least one merged cell into a full Excel spreadsheet, let alone a pivot table.
.... etc

Think twice before merging cells in Excel and only do so if it is really necessary for presentation or similar purposes, e.g. B. to center the table title over the table.


4.) ... alternative to merging cells in Excel!



By default, Excel merge functions only keep the contents of the top / left cell.

However, you can achieve the same result by simply inserting spaces in the left cell! 

(... see Image-3 Point 1 and 2)




(Image-3) Alternative in Excel to combine ergo merge cells in tables!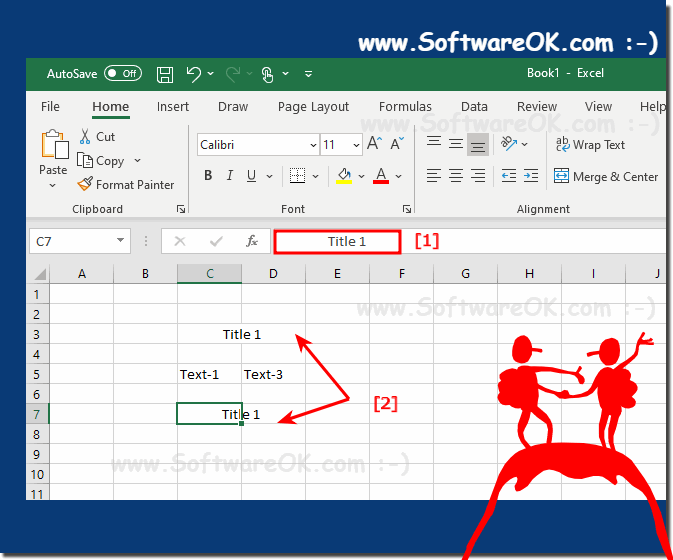 FAQ 35: Updated on: 11 May 2021 14:10