It's easy to do a full load on the new CPU properly and watch the System it via the Windows 11 or 10 Task Manager!
To properly load the CPU (Intel, AMD) start the free tool 
StressMyPC
 and click on the
Windows "Task Manager"
button on the Performance tab and watch the CPU to get the total load statistics for the CPU resources and monitor it.
These handy features were not only possible with Windows 10. If you are using Windows 7, 8.1, or an older version of Windows, this feature also appears in your
Task Manager
.  
Download "Stress MY PC" a Free tool: ... StressMyPC
(Image-1) See the full load on the new CPU and watch it in the Windows 10 Task Manager!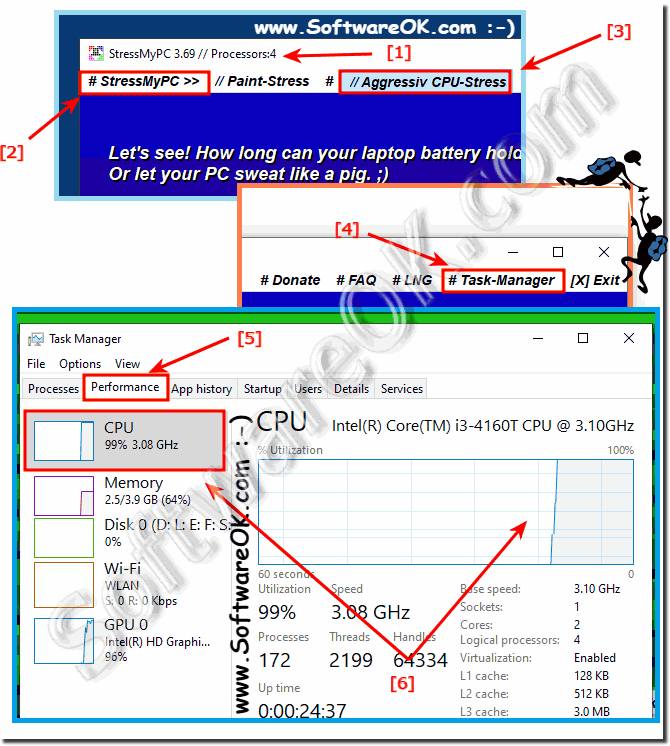 Show the CPU usage under Windows - that's how it's done!
The CPU load, or alternatively CPU load, indicates in percent how many resources the main processor, or even the main processors, if several of your computers are installed, use to run currently running programs. Logically, the higher the percentage value, the higher the CPU utilization.Show the CPU usage under Windows - that's how it's done. On Windows, you can easily find out about CPU usage by opening the Task Manager. To do this, press the key combination "Ctrl + Alt + Del" and then select "Start Task Manager" in the menu that opens. In its program window, you now switch to the "Performance" tab. Find CPU utilization with the Task Manager Here you can now in the small window "CPU Utilization" recognize the resource utilization of your processor; this will be updated on an ongoing basis. To the right, you will also see the progress of the CPU load in the form of a diagram. When split into multiple windows, you either use multiple processors, a multi-core processor, or both. In this case you will be shown here the load of each processor or processor core. By the way, you will find further information about the system load, such as the allocation of the main memory.