If you like to work offline in Windows 11, you will quickly find that the Windows 11 APPs need the Internet, it is because not all APPs are installed during the installation!
Sometimes only vacancies are displayed, the
offline installation of Windows 11
is of course faster, but because not all applications are preinstalled and only appear as an icon in the start menu, a connection to the Internet is required for the installation / first start!
1.) Here is an example on a Windows 11 offline PC!
When you start Twitter, Instagram, Photoshop Express, ... etc., the APP itself is not started the first time, but the installation of the corresponding application. 
If you are online, a progress bar appears under the respective APP symbol in the start menu and you can use the APP after installation!
With the offline computer the error message
"Check your connection"

and
"The Microsoft Store must be online"
or 
"Apparently there is no internet connection"
, ....
is clear if that is what you want!
(
... see Image-1
)

PS:
If you get annoyed with the APPs in the start menu, simply right-click to remove them without having to
remove all of the APPs in one fell swoop
. Microsoft's thought is very good and can be rated positively, so that you can now decide for yourself whether you want to have the apps or not.
(Image-1) In Windows 11 you need internet to install APPs!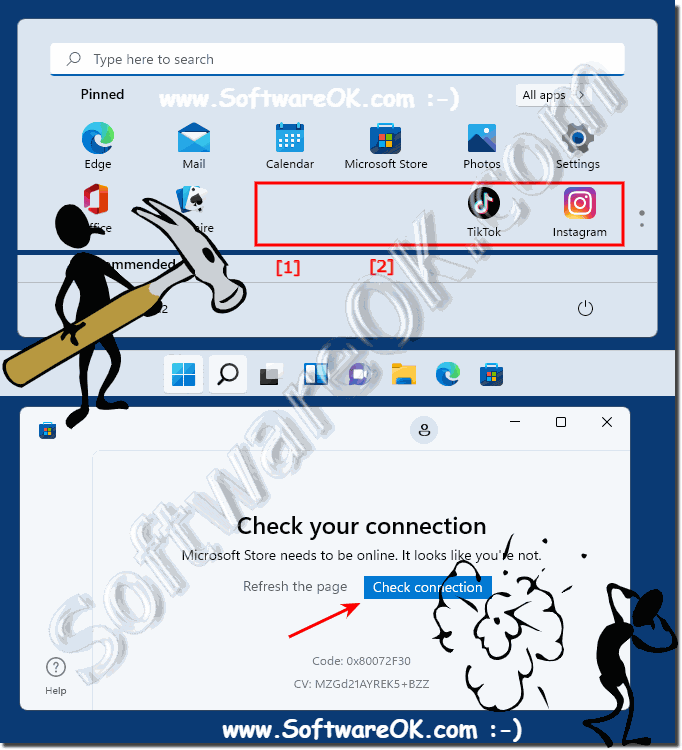 2.) More tips on Windows storage space and ... so!
Hard disk space is usually no longer a problem with the new Windows computers, and no wonder with the huge hard disks! However, the software, application, APP, ... manufacturers also know this and storage space optimization is becoming a foreign word! What for? It only costs time and money to develop. And so it becomes a problem!