You cannot deactivate the MS Windows 11 updates, but the auto-updates can be suspended for up to 5 weeks!
1.) Set up the pause of Windows 11 updates!
1. Start the Windows 11 settings as always

2. Click on "Window Update"

3. In the Suspend update area, switch to, for example, "Stop for 5 weeks"

(... see Image-1 Point 1 to 4)

PS: If you would like to continue the MS Windows 11 OS auto-updates, then simply click on the "Check for updates" button (point 5) and the "Suspend updates" function will be deactivated.


 


(Image-1) Pause the Windows 11 auto updates for up to 5 weeks!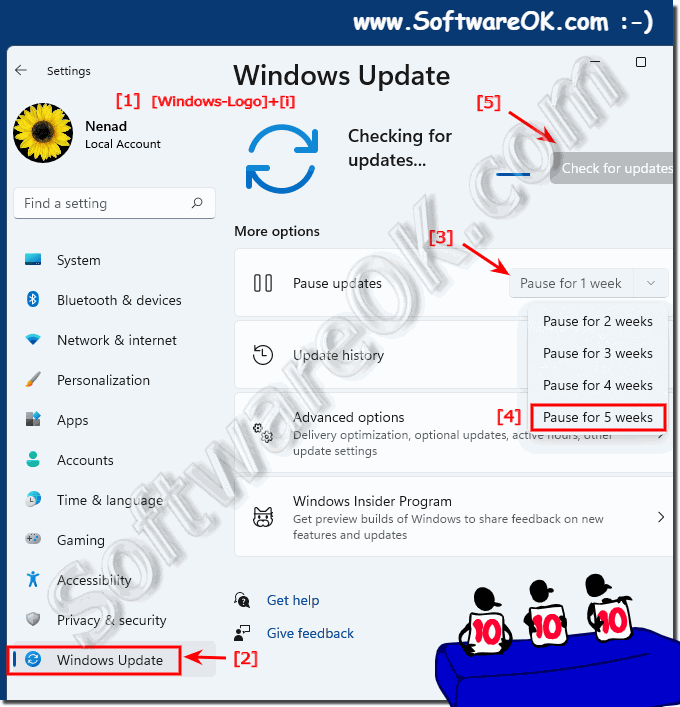 2.) What should I watch out for when deactivating the auto updates!
By default, Windows 11 automatically searches for updates and installs them unless you have temporarily disabled or paused these automatic updates. You can easily stop the automatic updates in Windows for a few weeks.

You will not receive any important security updates and if, for example, you enjoy surfing the Internet, you may only be 99% protected. As a rule, however, you will not catch malware or a virus immediately unless you do some installations during the time that you are not 100% up to date!







FAQ 78: Updated on: 20 September 2021 12:11