If immediately after the Windows 11 installation "Windows is being prepared" hangs for a long time and then an error message appears: We can't sign in to your account!


It is a very rare Windows 11 installation error, a clean installation of Windows 11, is absolutely not necessary. This error message cannot be removed even with a restart. If you wait longer than 30 minutes and more, you can initiate the safe mode with the installation DVD or USB stick!






1.) The error message - We can't sign in to your account!
With some installations you get to the point that this error message appears "" and you can close it with "Close", but the start menu, Explorer, ... does not work properly. Now you should quickly create a new account to get ahead!

With the Windows + R key shortcut and the command control userpasswords2

Continue with: ►  Solution to reactivate the account after all! 




(Image-1) We can´t sign in to your account Windows 11 error Message!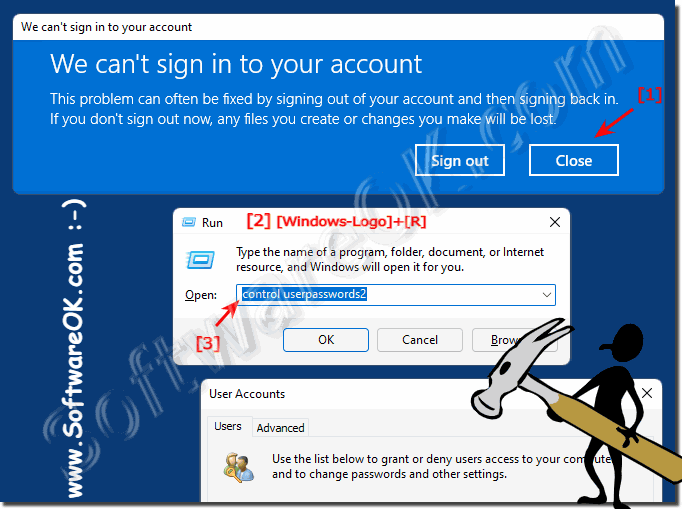 2.) The solution to reactivate the account!

Now just create another account with the new user name and make him an administrator right away and then log in with the user you just created! 

1. Create a new local user via the Add button

2. Make a new user administrator via properties

As described here ►  Administrator account as standard user and vice versa!

Then log out with the keyboard shortcut: 


After logging out, log in with the account you just created and delete the defective user account completely and create it again. Do not forget to confirm delete all data!  

Is also described here: ►► In the event of  errors, reset the local account under Windows 11, 10, ...!




(Image-2) Create a new admin account on MS Windows OS!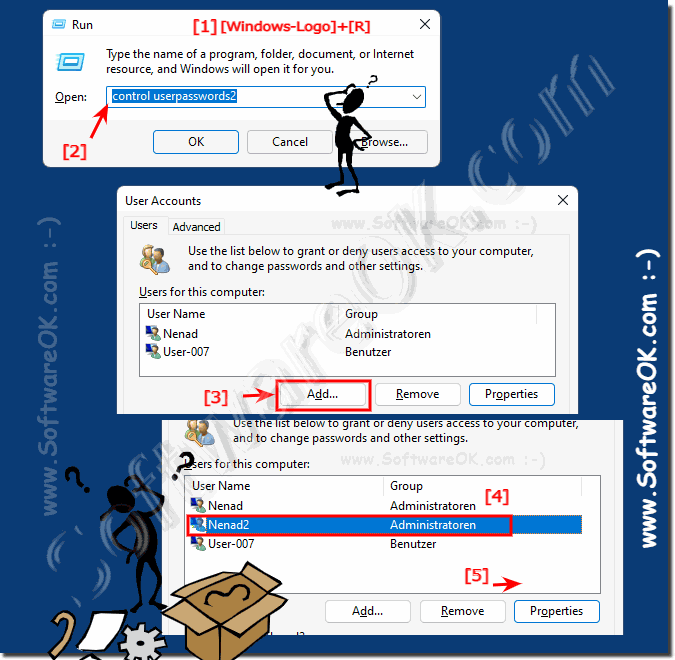 3.) In hardship cases start in safe mode and options!
Sometimes the damage to the account is unbearable and you get stuck, then these two tips could help!


4.) Why does this account error occur when installing Windows 11?
The error is very rare and the Windows 11 is an overhauled system and is always being improved. But it can also be the first signs / harbingers of a hardware failure. Or just an unfortunate coincidence! 







FAQ 158: Updated on: 26 August 2023 08:14