The example to Change Column Settings in the Quad Explorer, is the same like Windows 11, 10, ... etc. Microsoft's-Explorer! (... see Image-1 )
Just like in Microsoft Windows Explorer, you can 
change, select and adapt the columns very quickly 
in the free file 4 x Explorer
!

1.) Setting the Explorer columns! 
1.Click Choose Details on the View menu

2.Click to select the check box of each item that you would like to add to the current view, or click to clear the check boxes of items that you do not want.

Please use always: ... the latest ergo newest version of the Alternative Windows Explorer Q-Dir!



(Image-1) Change Column Settings in Q-Dir!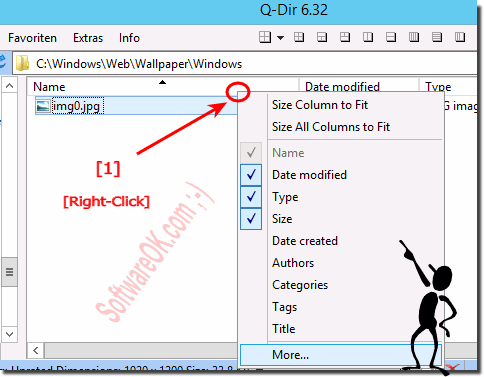 Available Column Settings: Owner , Name , Size Type ,Date Modified , Status , Attributes , Author , Title , Subject , Category , Pages , Comments , Copyright , Date Created , Date Accessed , Attributes , Artist , Album Title , Year , Track Number , Genre , Duration , Bit Rate , Protected , Camera Model , Date Picture Taken , Dimensions , Company , Description , File Version , Product Name , Product Version ,.... On MS-Vista and Windows 10: over 200 columns ! WOW ;) !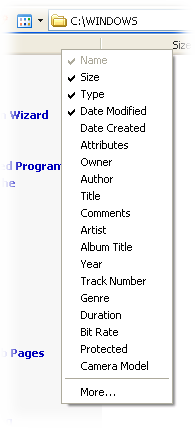 2.) Save and load the columns and view settings! 

1. Start the Quad Explorer

2. Adjust the view settings (Details, Large icons, ...) 

3. Select the appropriate columns, eg for media

4. Hold down the Ctrl Key and click with the right mouse button on the column Header

5. Select  "Save" and give a name 

6. To load the columns, repeat the Point 4. again

7. And just load the columns and view settings 

(... see Image-1 Point 1 to 8)

Granted, there are already a few moves, but everyone knows how long it takes to set different individual file explorer columns , especially with a certain column width, it can take a while, now you can choose your favorite columns with the appropriate width and view Quickly reload and use settings with just two clicks.



(Image-1) Save individual columns set and file explorer views under Windows!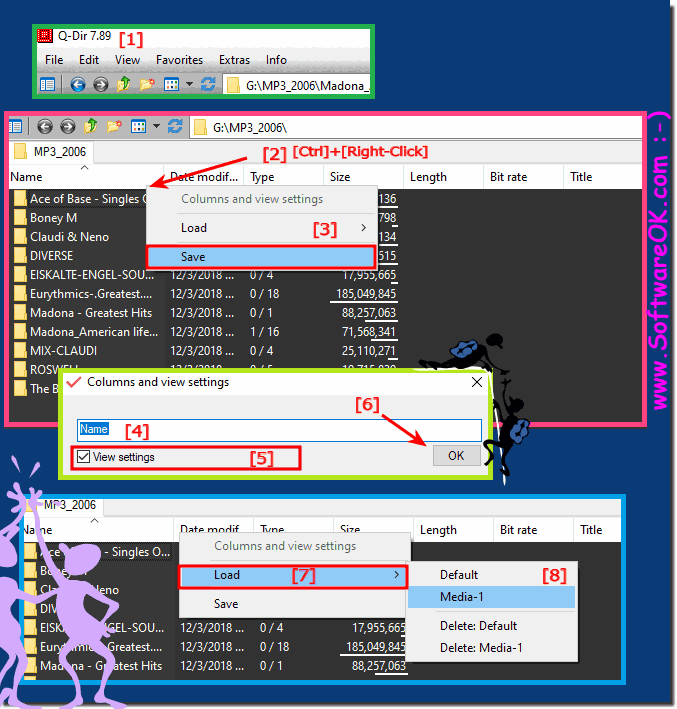 3.) More information about the Explorer columns!

It is difficult to make all users happy. One complains that the columns are constantly changing, the other asks why they don't. One wants color with files, the other wonders about files in red color, etc. ... etc. ... I'm still looking for a solution for the columns to satisfy as many users as possible. I am glad about every optimization and improvement suggestion.






FAQ 8: Updated on: 13 July 2021 05:41