Yes, the symbols can be displayed and arranged
in groups in each individual Explorer view in Q-Dir!
1.) Show files and folders in groups in the Explorer view!
By right-clicking in the free area of ​​the relevant Explorer list view, the context menu appears, now simply click Group by and set the grouping options. 

Optionally, you can also completely deactivate grouping for each folder in the folder views. Also change the sorting to ascending or descending.

1. As always, please start  .... the file explorer Q-Dir

2. And activate the desired option by right-clicking
( ... see Image-1, points 1 to 3 )




(Image-1) Completely disable grouping in Quad Explorer under Windows!
2.) Group Complete Disable for all File Explorer lists!
1. Please start as always ► the latest version Quad-Explorer on your MS Windows OS!  

2. Easy disable the Grouping in Q-Dir Explorer List Views (... see Image-2 Point 1 to 4),

PS:
This is a permanent ergo Complete Deactivation of Grouping in Quad-Explorer and no temporary deactivation of the grouping. 



(Image-2) Complete Deactivation of Grouping in Explorer List Views!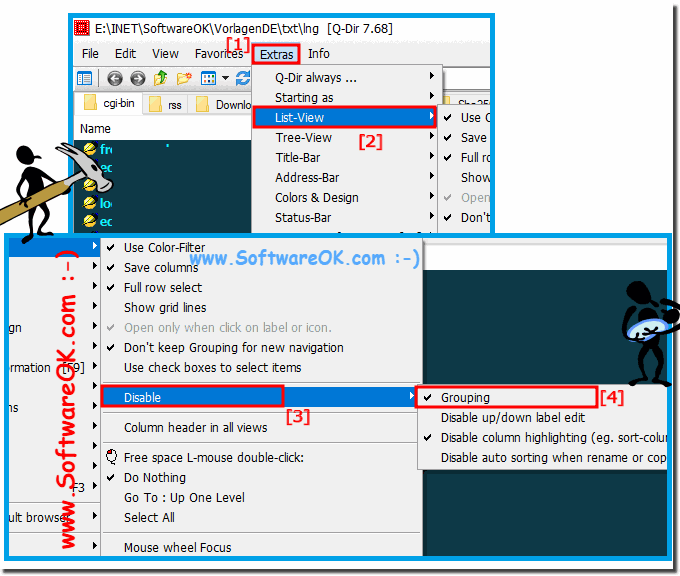 3.) More tips on grouping, sorting files and folders!



Info:

Grouping and sorting files and folders is an important skill for organizing your computer or file system. Here are some more tips that may help you:




Use subfolders:
Create subfolders to group files by topic or project. You can e.g. For example, you can create a folder for a project and create subfolders within it for documents, images, notes, etc.

Make file names meaningful:
Name files and folders so that you can understand at a glance what they contain. Avoid cryptic abbreviations and number sequences unless they are absolutely necessary.

Use tags and keywords:
Operating systems like macOS and some file management tools support adding tags or keywords to files. This makes it easier for you to categorize and find files.

Use metadata:
Certain programs and operating systems allow you to add metadata to files that contain additional information about the content. This can be very helpful when sorting and searching.

Use automatic organization tools:
There are many tools and applications that can organize files automatically. You can e.g. B. Use automation tools to move or rename files based on their creation date, file type, or other criteria.

Regularly delete unnecessary files: By regularly deleting files that are no longer needed, you will significantly reduce the amount of work required for file organization.

Use file management tools:Consider using file management tools that offer advanced organization and search features. Some popular options include Q-Dir, Total Commander, XYplorer and Directory Opus.

Develop a backup strategy:
Make sure you back up your files regularly to avoid data loss. A well-designed backup system can also be helpful in restoring files and folders.

Document your organizational structure:
If you have complex folder structures, document how you have organized your files. This can be useful for explaining to other people how to access files or for remembering where you have placed certain files.

Develop routines:
Set regular times to organize your files. This can be done weekly, monthly or as needed. If you make it a habit, your file organization will become less chaotic.





Choosing the best organization method depends on your personal preferences and needs. Experiment with different approaches to see which one suits your work style best and adjust as necessary.







See also: 
► Reset the column settings for all Explorer views! ► Can you display the last opened favorite in the title bar ?
► How can I force moving/copying when dragging files ?



FAQ 41: Updated on: 12 October 2023 05:43