Explorer Views in
Q

uad-

Dir

ectory Explorer has only the MS internal FTP! Test this in all List Views of the file manager Q-Dir!

UserName:m_y_pas@ftp.your_ftp_example1.com/dir1/
and create the

Favorit

or

Q-Dir Quick-link

in Q-Dir!

If you open it via  Favorite or Q-Dir Quick-link in Q-Dir it works!

See also >> https://www.softwareok.com/?seite=faq-Q-DIR&faq=35

Example-1: 
user_name:the_password@ftp.your_ftp_example1.com/OrdnerX/

Example-2 (%40=@): 
ftp://user%40name:password@ftp.strato.de/

Strato for example, has the @ in the user name, which can also be sent with %40!

But only on secure PC and protect your links and favorites!

More in the future versions, if ftp is relevant  ;)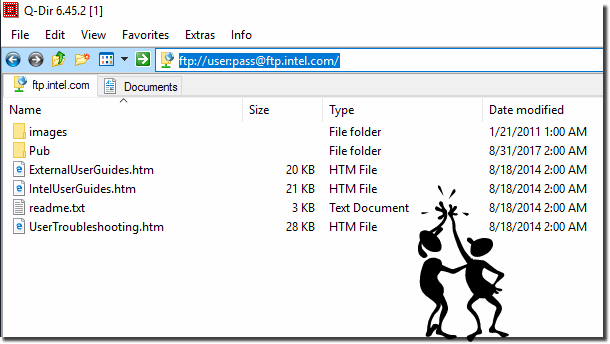 QUESTION 1:
Hello, I'm trying to connect to a local FTP server but it doesn't work. In Windows Explorer, the drive on the FTP is displayed with the name I assigned. Unfortunately it doesn't work with Q-Dir because only the network drive release to a drive released on the relevant PC is possible there. Is there a way to do it somehow? I just can't get any further, maybe I'm overlooking something, I don't want to rule it out.
FAQ 39: Updated on: 22 May 2022 18:14