Punch the icons is,  anti sort, chaos, to derange icons, (confused / disorder) , and it works  on Windows 11, 10, 8.1, ... and all MS Server OS! 


Please Save your desktop icon layout and test this button ;)



Please press the button

Punch the icons (random position)

. After that, the desktop icons will be messed up, but the desktop icons will be saved, and the desktop icons can be easily restored. (

... see Image-1

) 

 




(Image-1) Create Icon chaos on your Windows Desktop!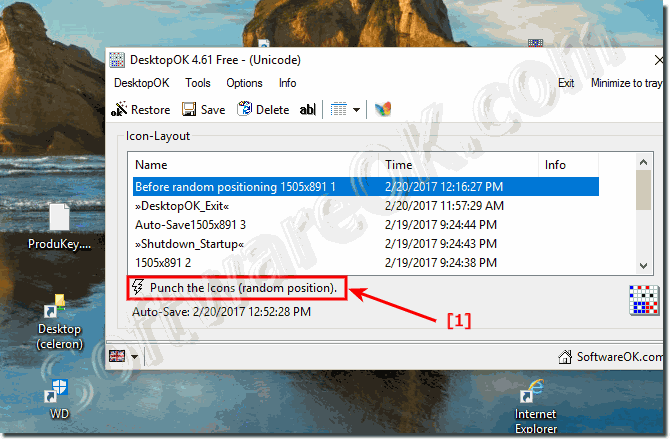 Info:
You can use "Punch the desktop icons" whether in the new MS Windows OS, or on any of the ms nt operating systems it has been tested and successfully 
verified
 at all.At problems please restrar the Windows PC, please 
perform a correct Windows restart
! You can easily use this simple and fast "to derange the desktop icons" feature on older versions of Microsoft's Windows operating systems, whether it's a Windows desktop PC desktop icons, tablet, Surface Pro / Go, or even a server operating system.

FAQ 5: Updated on: 30 June 2021 11:44