Somewhat different to Sticky Notes, the handy shortcuts on the Windows 11, 10, ... etc. desktop can always be in the foreground!




Info:

You can switch to this very easily note tool so that it behaves like Windows 

Sticky Notes

.

The short notes on the Windows desktop

can be safely used even on older versions of MS Windows operating systems, whether it is a Windows desktop, tablet, Surface Pro / Go, or even a server operating system.






Content:




1.) Sticky notes on the Windows 11, 10, ... desktop is always in the foreground disable!

Simply in the DesktopNoteOK in the appropriate note on the "sticking icon"  to disable the foreground option




(Image-1) Short note on the Windows desktop foreground window!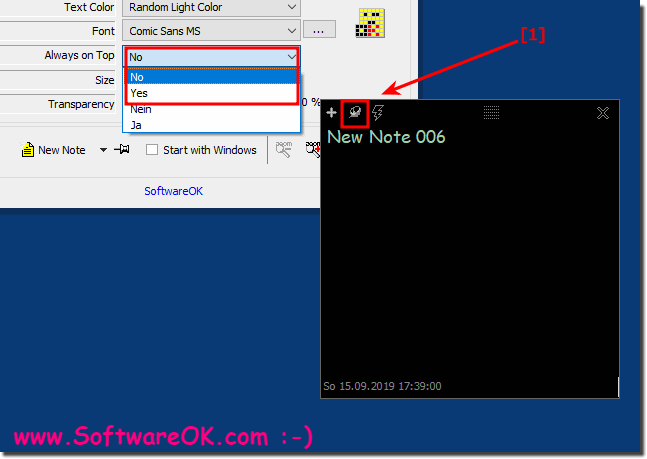 Sticky notes let you attach the electronic equivalent of traditional notes across your entire Windows desktop.

In Windows 10, 8.1, 7.0, ..., you can use sticky notes as reminders on the screen.

You can even color them to keep track.


2.) Why to put the notes just on the desktop in the foreground?

If you have an important note and you want to be able to read the contents of the desktop note over all the other Windows windows, it may prove beneficial.


Tip: 
If you want a clean desktop or do not want your notes to deface your desktop design, you can also create a completely separate desktop for sticky notes!
Press the Windows key + the Tab key on your keyboard to display the Windows 10 Task view.
Then click the New Desktop option at the top of the screen
.


FAQ 3: Updated on: 24 July 2021 09:59