Commercial use in the office area is also possible, the practical desktop calendar with calendar functions is also very popular in offices!






Many users are dissatisfied with the complex calendar programs. A simple calendar is just the right calendar function. You don't have to install an extensive calendar program on the computer, which is actually an organizer, and why, if only these important functions are involved. Every program now has an appointment planner included.




Content:

1.) Commercial use in the office area is possible!

1. Simply download the smart desktop calendar

2. Place the calendar on the Windows desktop

3. And benefit from the desktop calendar on all PCs forever and use commercial in office or at home   

( ... see Image-1, Items 1 and 2 )




(Image-1) Desktop Calendar in Office for Commercial Use!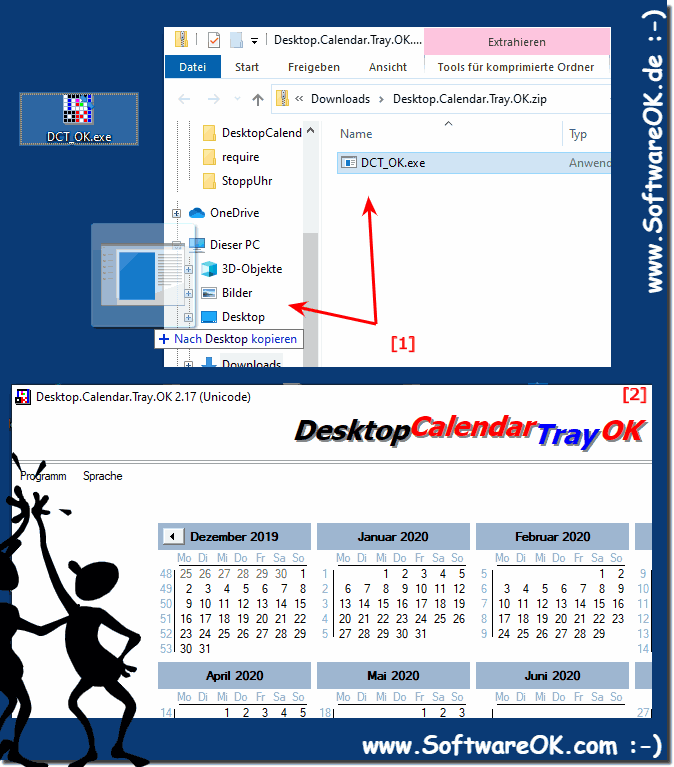 2.) Advantages and disadvantages of using desktop calendars in the office for commercial purposes!

Using a desktop calendar in the office for commercial purposes has both advantages and disadvantages. Here are some of them:

Benefits:

Increased Efficiency: A desktop calendar can make organizing appointments and tasks much easier. You can manage all important appointments in one place and never miss any important meetings or deadlines.

Synchronization: Many desktop calendar applications allow synchronization with other devices and platforms. This makes it easier to update and access your appointments whether you're at your desktop or on the go.

Custom Reminders: Desktop calendar applications often offer the ability to set reminders and notifications for upcoming appointments to ensure you don't forget important tasks or meetings.

Collaboration: Many calendar applications allow you to share calendars, making team collaboration easier. This is particularly useful for planning meetings and projects.

Reports and analytics: Some desktop calendar applications offer reporting tools to help you analyze your time usage and activities to improve your productivity.

Cons:

Cost: Some desktop calendar applications require the purchase of licenses or subscriptions, which may incur costs, especially in commercial environments.

Dependence on technology: If your desktop calendar crashes or data is lost, it can cause significant disruption. It's important to back up your calendar data regularly.

Learning curve: Launching a new desktop calendar application may require training and some time for employees to get up to speed.

Limited mobility: A desktop calendar is usually tied to the workplace. If you are traveling or working from home, access to your appointments may be limited.

Privacy and security: When you use desktop calendar applications for business purposes, you need to ensure that your data is protected and kept secure to minimize privacy and security risks.

Choosing a desktop calendar for commercial purposes depends on the specific needs of your business. It's important to weigh the pros and cons and ensure that the application you choose best suits your company's needs.

Desktop calendars offer a number of advantages for commercial use. They are easy to use, flexible and offer a high level of security. However, they can also be paid and require manual synchronization.

Examples of desktop calendars for commercial purposes:

- Microsoft Outlook
- Google Calendar
- Apple Calendar
- Mozilla Thunderbird
- Sunrise Calendar
- CalDAV synchronization with a web calendar



Recommendation:

For businesses looking for an inexpensive and simple calendar for commercial use, a desktop calendar is a good option. However, companies looking for a calendar with extensive features and integration options should consider a cloud-based calendar.





FAQ 8: Updated on: 31 October 2023 10:23