Easily check the Prefomance of a Windows Volume eg. Partition! 

Update on: 30 October 2022
Suitable for : Windows 11, Windows 10, 8.1, 7, ... , Server 2012-2019, 2022, x64, x32, x86

IsMyHdOK is a small program but effective solution to easily check the Performance of a Windows Volume eg. Partition!


SSD, DF, SD cards, USB sticks ... and other data carriers can be tested, a small tool from the category ► ... Test Tools for MS Windows SoftwareOK


Key Features in HD Test Tool




◆ 

Benchmark

 Suitable for SSD and HD and other drives

◆ Arbitrary Test Time:
◆ Quick Test (~ 15 sec)
◆ Short Test (~ 30 sec)
◆ Long test (~ 60 sec)
◆ Very long test (~ 4 min)
◆ Screenshot after the Benchmark 



Other specifications and possibilities:

◆ Extreme small program

◆ Low CPU and Resource usage

◆ Optional Portable

◆ Multilingual



The Installation


IsMyHdOK does not have to be installed and can be executed easily from the desktop, and can be carried on a small usb-stick or other memory device. For portable use, please create in the IsMyHdOK working directory IsMyHdOK.ini



Use SSD, HD, USB, ... TooL on MS Windows OS


There are many similar programs, but feel free and test it for free,  start the program drives test tool on Windows. The first time that you use it the program will present you with a license screen. The program is free and the license info is only displayed the first time (per PC). Please select the Drive and Test Time and then the Start Button! You can also choose whether the user interface is displayed in German or English. Of course, this has no influence on the SSD or HD test of "IsMyHdOK". 

After the start, IsMyHdOK lists all hard drives or data carriers that can be tested or evaluated.  

PS: You can end the program at any time with the ESC key.  




(Image-1) Easily check Volume, Partition on HDD, SSD, ...!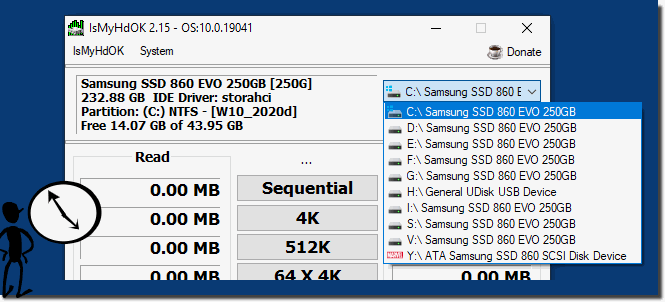 # IsMyHdOK Versions History


New in version 3.77 // 30 October 2022
Verification and testing of hard drive speed tester on Windows 11 22H2
General corrections and small fine adjustments in IsMyHdOK



New in version 3.66 // 15 June 2022
Small adjustments for the new MS Windows 11 OS update
Better detection of drive information for SSD and SSHD
Updating the language files



New in version 3.51 // 19 February 2022
Minor fixes and other adjustments in the hard drive speed tester
Updating the language files in IsMyHdOK for all MS Windows OS



New in version 3.44 // 13 November 2021
Important tests in Window hard drive test APP
New language: simplified Bosnian / Croatian / Serbian language.

Many thanks to Mujo for the Bosnian / Croatian / Serbian language.



New in version 3.33 // 18 July 2021
Verification of hard drive benchmark on MS Windows 11 OS
Small adjustments for Windows 11
Update of the language files




... complete Versions History




# IsMyHdOK is multilingual and a popular program worldwide:

Program Keys:


Supported Operating systems

 

The HD performance test is Suitable for: Windows 11, Windows 10, Windows 10 Pro, Windows 10 Enterprise, Windows 10 Home, Windows 8.1, Windows 8.1 Enterprise and Pro, Windows 8, Windows 8 Enterprise and Pro, Windows 7, Windows 7 Enterprise, Windows 7 Home Basic, Windows 7 Home Premium + Professional, Windows 7 Starter + Ultimate, , X64, x86 and x32 all Windows, MS Windows Server 2019, 2016,2012, .




* Easily check the Prefomance of a Windows Volume eg. Partition! 
---
Images+ # Thanks+