The example how to
test your Touch Screen for the Multi Touch features

on Windows 10, 11, ... etc. , with the Desktop-OK, from Version 4.81!

Content:
1.) Multi Touch Test for Windows!
Main Menu  ► Tools ► Multitouch Test (
... see Image-1
)
See the result when you start he Multi-Touch screen test and Tap on your Desktop with five fingers!
(
... see Image-2
)
Please use 
... always the latest version of DesktopOK
!   
(Image-1) Multi Touch Test for Windows!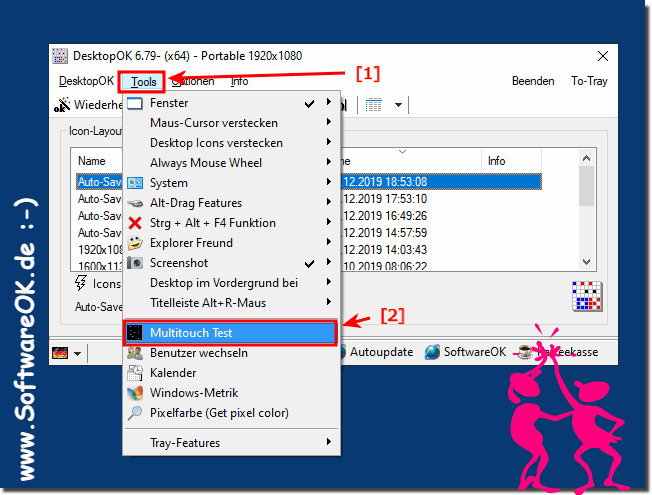 Do a simple multi touch test on Windows 10 or 8.1 and also on Windows Seven!
(Image-2) Multi Touch Test Freeware!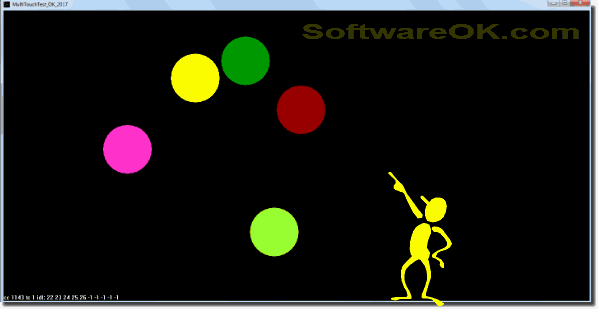 2.) Who needs a Multi Touch Test on Windows please!
A multi-touch test under Windows can be useful for different purposes depending on the needs and interests of the user. Here are some examples of people or organizations that could benefit from multi-touch testing on Windows:
Hardware manufacturers:
Manufacturers of touchscreen devices could use multi-touch testing on Windows to ensure that their hardware is working properly and has all its features supports.
Software developers:
Developers of applications and software that run on touchscreen devices running Windows can perform multi-touch testing to ensure that their applications use multi-touch capabilities effectively and provide a smooth user experience.
System administrators:
IT professionals responsible for managing Windows computers in a business or educational environment may perform multitouch testing to ensure that touchscreen devices on a network are configured and functioning properly.
Educational institutions:
Schools and universities that integrate touchscreen devices into their classrooms could use multi-touch testing to ensure that the devices are suitable for use in the classroom and are functioning properly.
End Users:
Individual users of touchscreen Windows devices could perform multi-touch testing to verify the functionality of their device and identify potential problems.

Various tools and applications are available for multitouch testing under Windows. The choice depends on the specific requirements. Such tests can help optimize the user experience and identify problems early.