It is possible to open the indexing options responsible for the search in Windows 11 very quickly!

Windows 11, 10 ... inherently uses the index when searching, in order to provide you with the fastest possible search results. The search index only includes your selected locations. These locations can be filtered based on file types, extensions, file properties, and file contents to be indexed.


1.) Open the indexing options in Windows 11 directly!
1. Press the key combination [Windows logo] + [R],
2. then simply enter the command: 
control.exe srchadmin.dll
3. and you will see the indexing
options
on the 
Windows 10/11 desktop
!
4. It is now very easy to add or remove directories using the
"Modify"
button ! 
(Image-1) The search indexing options in Windows 11!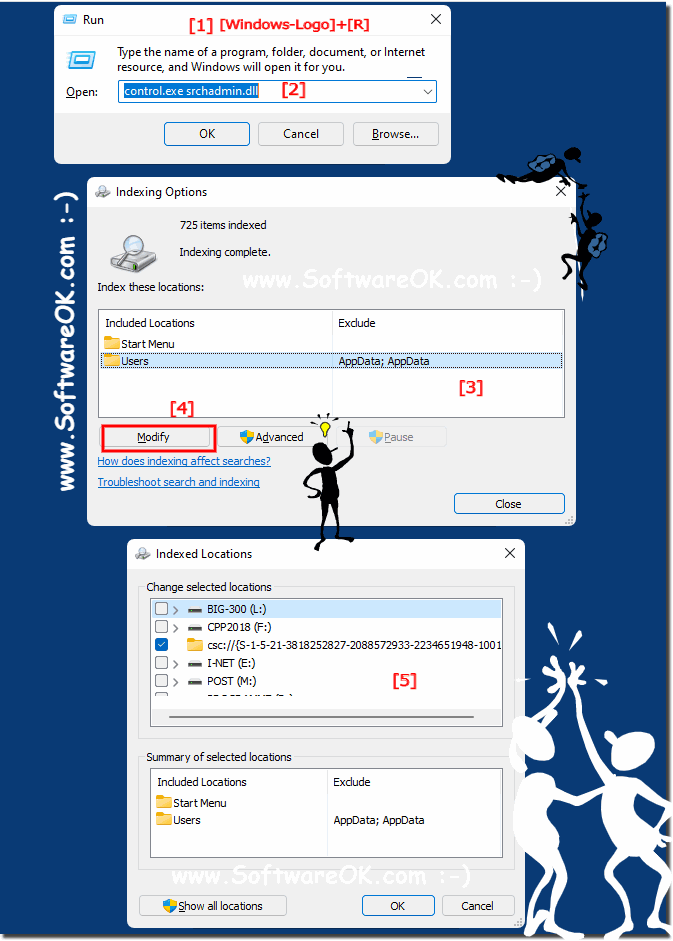 2.) Indexing options in the control panel + shortcut on the desktop!
1. As always, open
the control panel in Windows 11
2. F3 and enter "Indexing" 
3. Open the indexing options
4. Or right-click to place the indexing options as a link on the desktop
(
... see picture -2 point 1 to 6
) 


Why not even those who often have to adjust the indexing options under Windows 11 are surely happy to be able to open the indexing options quickly with one click, without having to memorize all the steps to get to the indexing options!  


(Image-2) The search indexing options on the desktop as a shortcut!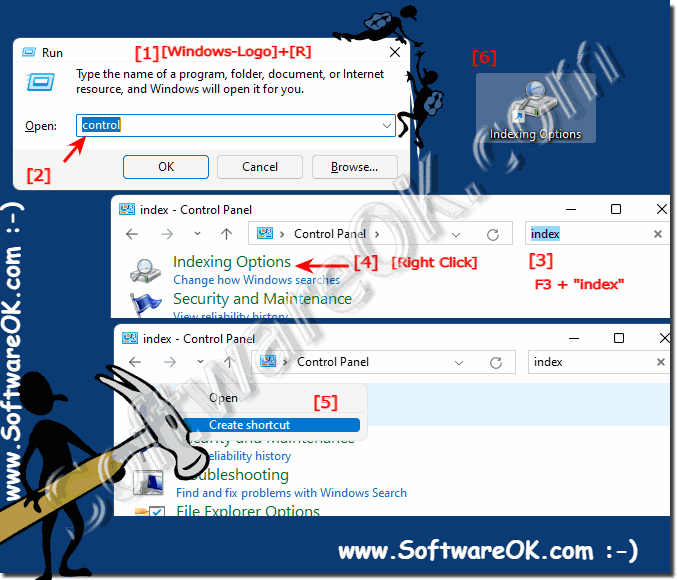 3.) ... Does indexing slow down the MS Windows OS computer?
Indexing makes searching easier and more efficient, which is an advantage, but if you have a computer with very old hardware, it can tax your CPU and slow down the operating system.
So if you notice your computer slowing down, you can try
disabling search indexing
and compare the two settings. It is also advantageous if your MS Windows PC uses the latest SSD hard drives!