Open the
spell checker settings in Windows 11/10

, just customize it to better detect spelling mistakes!


Windows 10 includes a spelling checker for typing words anywhere in Windows 11/10. If auto-correction of misspelled words is enabled, the entered words will be automatically matched with the correct spelling of the windows word dictionary. If you want to customize spell checking in Windows 11/10, there is a pretty quick way.



Content / Solution / Tips:
1.) Open Spellcheck Settings in Windows 10 and 11! 
1. Simply enter the shortcut
Windows logo + I
2. and enter
"spell"
3. and select to
"highlight misspelled words"
 or the 
"Autocorrect misspelled words"
(Image-1) Open Spell checker in Windows 10!


2.) spell check Windows 10/11 customize! 
In Windows 11/10, you really have many options for customizing the spell checker to your individual needs, and you can hire change settings four yourself without much expertise. 
( 
... see picture-2
 )  
See also: ► 
Change language in Windows-10
  ►   
Settings for language and region
(Image-2) Spell checker settings on Windows 10!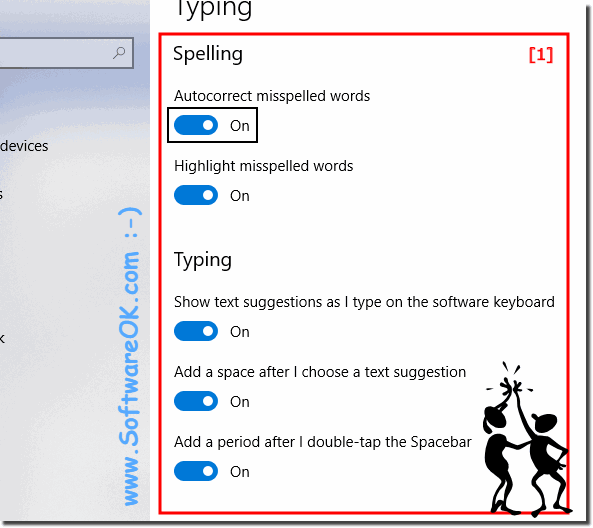 The spelling can be so easy under Windows 10, even if one is not so good in German! 

Info:

Spell checker helps users enter words and phrases in text input controls. The spelling checker automatically corrects misspelled words if Auto Correction considers them necessary. For example, the word "fur" is automatically corrected to "for". If the corrections spell checker is not sure, the misspelled word is highlighted by a red line, and alternate conventions are displayed in the context menu that appears when you touch a word or right-click it.


3.) ... What should you watch out for when using the Windows spell checker?
These spell check / settings do not affect all programs under Windows 10. Programs or applications such as the popular Microsoft Word, Excel, PowerPoint or the e-mail program
Outlook have their own spell checker
, which cannot be deactivated using this option. This spell check can be activated or deactivated in the options of the individual programs.