The output memory of the CMD prompt can easily be extended for longer text outputs!


The screen buffer size that you set with this option is temporary and only used when the command prompt is open. You can also set the option as the default value. Especially if you want to list longer file list, it can be quite helpful.


 

Content:




See also: ► Close correctly, the command prompt  ► ColorConsole  

1.) Standard, or only temporarily extend the memory size! 
Here you decide whether the memory should be permanently, or only temporarily increased!
(... see Image-1 Point 1 and 2)

Temporary means here for the current Windows session, when restarting standard values ​​are used again.

By default, the values ​​for the currently logged in user are permanently changed as long as no further or new changes are made.



(Image-1) output memory of the CMD!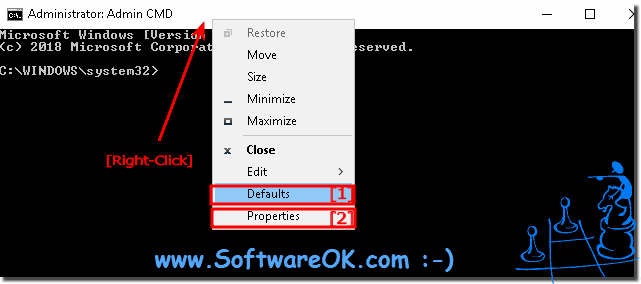 2.) Changing the screen buffer size of the command prompt! 
Now just change the buffer size in width and height (80 * 300), here it is 24000 Bytes (24K) 
Simply select the required size for the equalization memory.
(Image-2) Extend the output memory command prompt!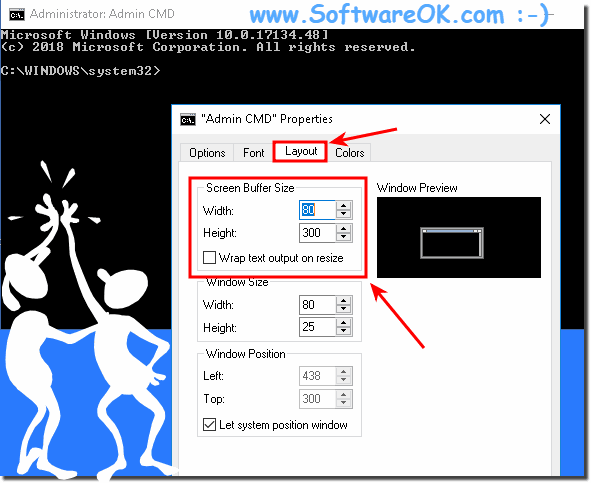 3.) What to consider when extend the output memory?
Actually, you have to be clear whether you need the change temporarily or permanently (default), if the changes are made, they will be valid until the next command.
In this example, you not only learned how to increase the screen buffer size, but also what these prompt values ​​are at all. You can change it for your account under: Windows 10 Pro, Enterprise, Home, Windows 8.1, Windows 8, Windows Server 2016, 2012, 2008, Windows 7 Basic, Professional, Starter, Ultimate. Because it is one of the oldest windows programs. 
FAQ 26: Updated on: 26 August 2023 10:17