Sometimes you just want a plain example of a subfunction ergo Sub-Routine in a command prompt batch file to understand how it works!





The CALL command starts a new batch file context along with any parameters specified. When the end of the second batch file is reached or when EXIT is used, control returns immediately after the first CALL statement.





Contents:




1.) Simple example of a sub-function (sub-routine)!
Here is a simple example in which a sub-function is called twice.

The sub-function multiplies two numbers and outputs the result

Below in the picture you can see:  ►►  the output


sub_function.bat


ECHO off

 

::Call under function 2 times 

 

CALL :sub_function 2 5

ECHO end

 

::Waiting for keypress

PAUSE

 

::END

GOTO :eof

 

:sub_function

SET /a result=%1*%2

 

ECHO %1 mul %2 is %result%

EXIT /B

 



GOTO jumps to a specific point or end of the batch file



Example of subfunction output in a batch file
(Image-1) Run the example batch and sub-function on MS Windows all OS!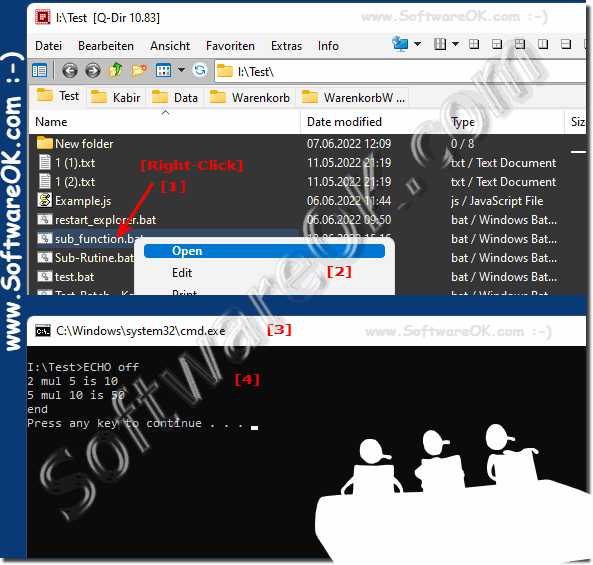 2.) More information about CALL calling sub-functions!
When command extensions are enabled, the CALL command is modified as follows:

The CALL command now accepts markers as jump targets. The syntax is: CALL :marker arguments


With: 



call /?




Get more help on the CALL command, just practice, because practice makes perfect!




 



FAQ 140: Updated on: 26 August 2023 11:00