With very little effort you can create a -Remove hardware safely desktop shortcut- under Windows 11!




You don't always have to use handy tools such as ►►

... OpenCloseDriveEject

 , Windows 11 also has its own

Safely Remove Hardware taskbar icon

, but it's quite fluffy to navigate to and can also make a desktop button nervous is of course much more convenient, especially on touch screens without a keyboard and mouse! 


Contents:





1.) Safely remove the hardware shortcut on MS Windows OS!

1. Shortcut Windows + D to focus the desktop
 
2. Click on a free spot on the desktop

3. As always create ► New ►  Shortcut

4. As target %windir%\System32\rundll32.exe shell32.dll,Control_RunDLL hotplug.dll

5. As a name, for example Eject  or  "Safely Remove"



(Image-3) Safely remove hardware as windows 11 desktop shortcut!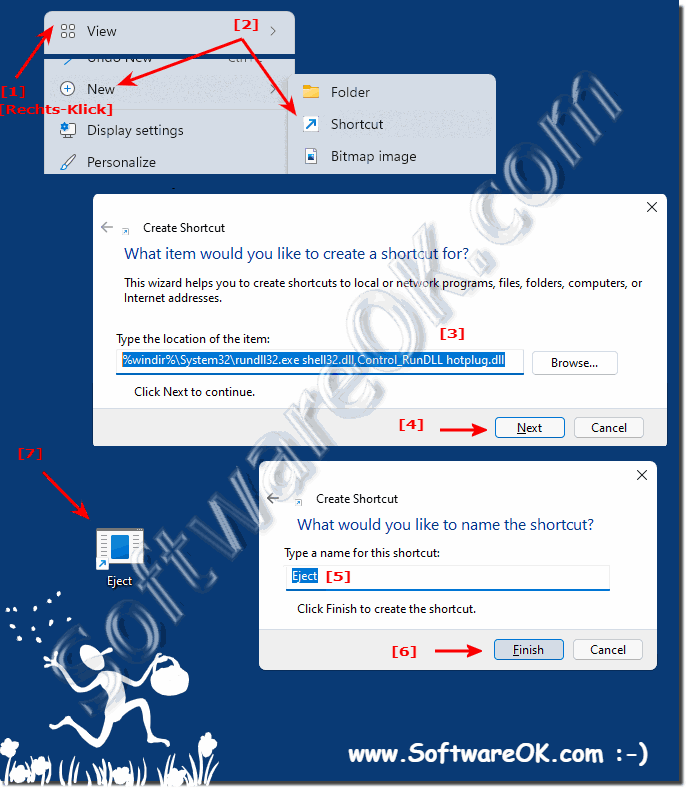 2.) Further tips on hardware, safe, removal, ... under Windows 11!
Using the shortcut is very easy, with a double click and for example on:

"USB Attached SCSI ..."  easy remove the USB device!




Even if you don't remove it safely, it won't harm your Windows PC, but sometimes the drive, it can lead to data loss, so it's always a better option to safely eject the device first and then remove it from your MS Windows PC.




(Image-1) Remove hardware safely!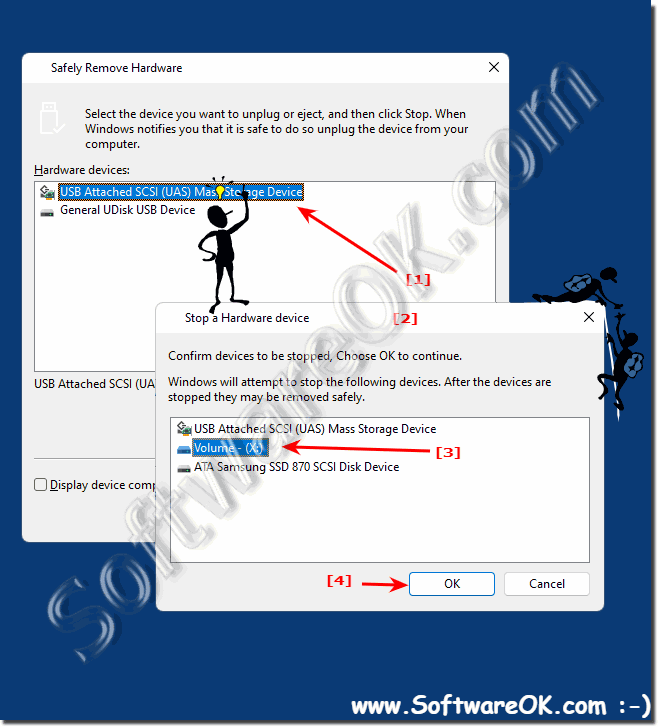 3.) What if I forget to safely remove hardware in Windows 11?
Forgetting to safely remove hardware on Windows 11 can lead to various problems, especially when it comes to external devices such as USB sticks, external hard drives, or other USB peripherals. Here are some possible consequences of forgetting to safely remove a device:

Data Loss:
Abruptly removing an external storage device while it is still transferring data can result in data loss. This can lead to file corruption or even loss of important files.
►►  Start the disk check on Windows 10/11!

Damage to the device:
Improper hardware removal may result in damage to the hardware itself. This may result in the device no longer being recognized or usable.

File system issues:
Removing devices without safe removal can lead to file system issues on the device itself. This may cause unexpected errors and problems when you reconnect the device later.
►►  Hard drive is suddenly RAW and not NTFS / FAT32?

Data transfer conflicts:
If you unsafely remove a device and then reconnect it later, data transfer conflicts may occur. This may result in duplicate files or difficulty accessing the device.




To avoid these problems, it is advisable to use "Hardware Safe Removal" on Windows 11 or any other operating system when you want to remove external devices. This ensures that any writes in progress complete and the device is safely disconnected from the system. To perform Safe Hardware Removal, typically click the Safely Remove Hardware icon on the taskbar, select the desired device, and follow the instructions to safely remove it.







FAQ 205: Updated on: 10 October 2023 08:59