The example to see all network adapters under Windows 11, 10, 8.1, ..., or to deactivate / activate the connection!


Content:





Deactivating the network adapter is a popular thing for all users who are concerned about security and with WLAN it leads to a reduction in radio signals / radiation and helps people who are affected by electro-hypersensitive symptoms, the simple solution is also for all Windows desktop operating systems and MS server suitable!


1.) Deactivate and activate all network adapters under Windows OS!
Please start the network connections in Windows  from the Windows control panel !

1. Or use the command

ncpa.cpl,

 for example via the Run dialog [Windows + R].

2. Optionally, you can open the network connections via the Windows X menu.
Keyboard shortcut Windows logo + X, or mouse click on the Windows LOGO

Here is an example for deactivating the WiFi connection  ergo go offline, easy disconnecting from the Internet:

(... see Image-1 Point 1 to 4)


In Network Connections, please right-click on the WI-FI network adapter WI-FI network connection. It also makes sense to have a ► shortcut for managing wireless networks in Windows 10 if you have to make changes on Microsoft's Windows 10 frequently!




(Image-1) All network adapters under Windows 10 deactivate or activate!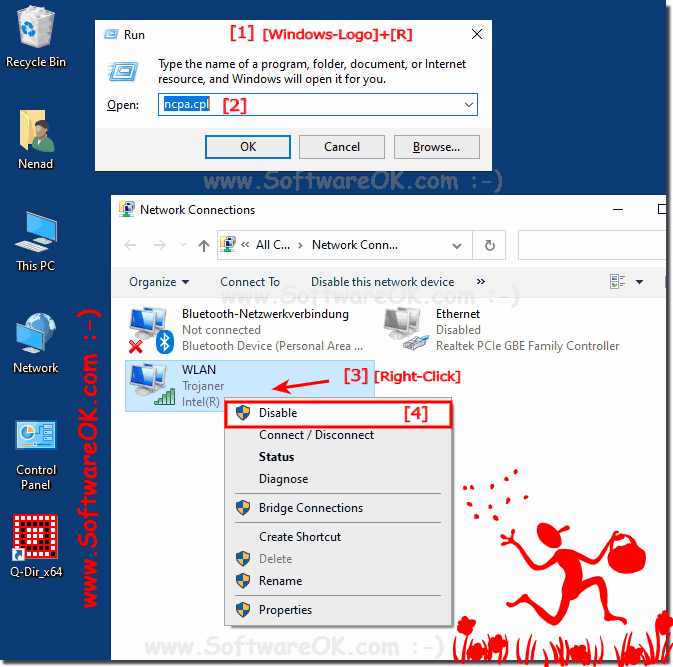 Info:
Windows 10 is characterized by a large list of Wi-Fi parameters and its functions that are available to the user: view connection data, configure security settings, configure shared access, file sharing, remote access and display saved passwords.
See saved keys
Windows 10 offers the option to view the password of the network to which your device is connected, e.g. For example, to establish a Wi-Fi connection with a smartphone, or to give a key to a friend. ► 
Command to see all WiFi information in Windows 10!


2.) A look at the device manager and network adapter driver under Windows 11 or 10!
1. Start the Windows 10 device manager as always

2. Open "Network adapters"

3. Select one of the network adapters

4. And possibly start a driver update

(... see Image-2 Point 1  to 4)



PS:

Here's an elegant way to check your network adapter. In the event of Internet failures or network problems under Microsoft Windows 10, it often helps to take a look at the network adapter. So you can rule out that the cause of the network problem lies there.

(Image-2) All network adapters under Windows 10 (see, deactivate, activate)?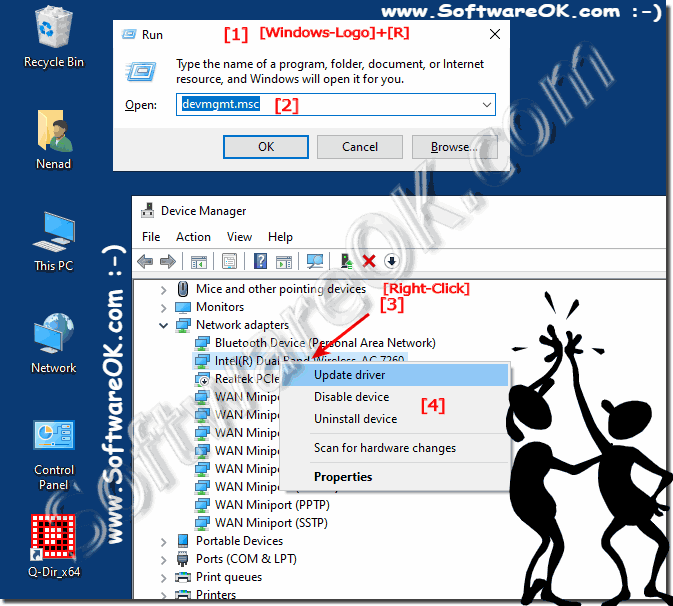 3.) Adapter and Network Problems Tips and Links!
Also check all connections in the network, it is possible that OneDrive loses the connection due to WLAN or router, the Fritz-Box, Speedport, TP-Link, ... Before you lose a lot of time looking for errors with the network adapter, you should also rule out other causes, for example with the router or other transmission path cables, plugs, .....







FAQ 192: Updated on: 25 August 2023 14:02