The solution is simple to turn off touch screen on Windows 11, 10 and 8.1, how to disable it, is no more a question!




 

Content:





The touchscreen is not only a practical additional text input device on laptops and Surface Pro, but also on the desktop PC. The touchscreen is sometimes annoying because additional functions are activated that are only annoying when working with the mouse, here is a simple example like you deactivate the touchscreen function without having to pull the touchscreen cable on the desktop PC!





1.) The touchscreen on a Windows desktop computer! 
 

1. Please Run the command 

devmgmt.msc

 , or open the Device-Manager via Windows+X keyboard shortcut.

2. And disable the Touch-Screen Device (... see Image-1 Point 1 to 5)  in this case HID-compliant touch screen





(Image-1) Disable or enable touchscreen on Windows-10!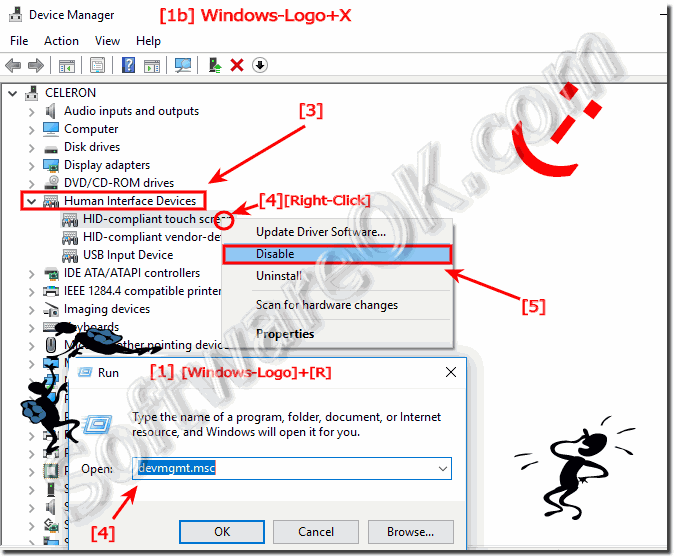 Info:

This enable disable touchscreen example is suitable for: Windows 11, 10 Pro, Enterprise, Home, Windows 8.1, Windows 8, Windows-Server 2019, 2016, 2012, Windows 7 Basic, Professional, Starter, Ultimate



2.) Why deactivate the touchscreen on Windows 11, 10, ... !

There are occasional problems with touch screens under Windows, for example when using programs, certain symbols and other things appear much larger in programs, if you work with the mouse alternately, they are unsuitable for the mouse, which is not only under Windows 10 so here you have simple solutions on how to disable the touchscreen. You can also simply pull out the USB connector that is usually connected to the touchscreen on the desktop computer. After the touchscreen has been deactivated under Windows 10, things appear on the screen in normal size again and you can work normally again.





FAQ 172: Updated on: 25 August 2023 12:42