The solution to d
isable the lock screen

in Windows 10 / 11 , the standard lock screen may be useful for mobile devices such as tablets and smartphones,



The classic desktop PC it is not necessary this will disable the password query, when resuming from sleep mode! You do not have to use third-party easy solutions like: 

... NoLockScreen.OK

whether it's a Windows desktop, tablet, Surface Pro / Go, or even a server operating system. It has been tested on all and successfully

verified

.


 

Please start the Windows Registry Editor (Windows-Logo+R or Windows-Logo+X).
Navigate in the key HKEY_LOCAL_MACHINE\SOFTWARE\Policies\Microsoft\Windows\


Here is the sub key

Personalization

. If he does not already exist, click with the right mouse button in the right half and select the context menu

New / Key

. Then tap

Personalization

for the name of the key.


Go directly to the key you just created, click again on the right with the right mouse button and select
New / DWORD (32-bit).
Rename the new created entry  gets

NoLockScreen

.
Double-click the new created entry and enter the value 1
(Image-1) Disable the lock screen in Windows 10 when resume from sleep!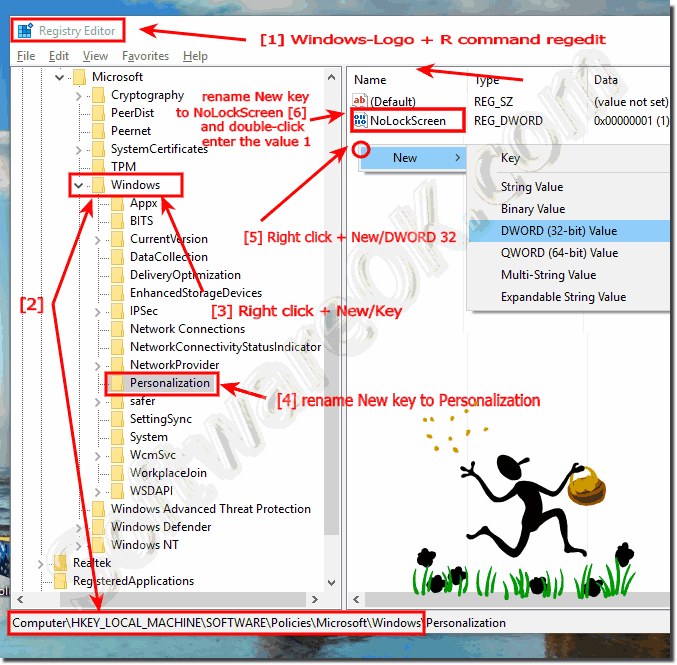 FAQ 159: Updated on: 25 August 2023 12:39