NoLockScreen.OK for Windows 11, 10, ... , is the right Tool for Windows if often Turn Off or On the Lock Screen!
(Image-1) Easy Turn Off and On the Lock Screen with NoLockScreen.OK!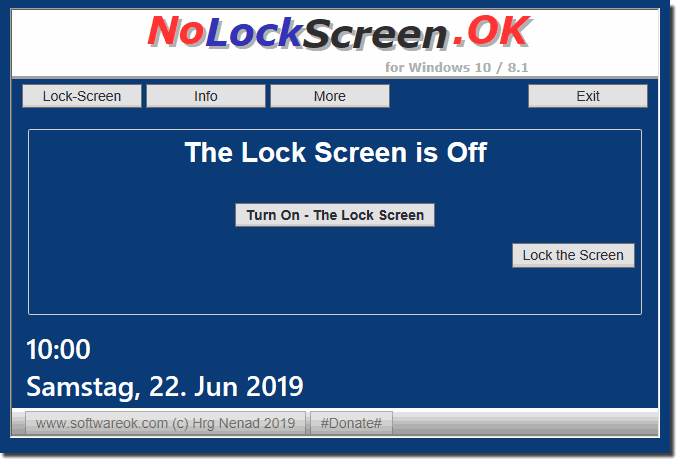 When Windows 10 is locked by the user, such as a keyboard shortcut (Windows + L), a default lock screen is displayed on which system or third-party apps can display information. So the theory. Personally, I do not know anyone who really uses these features. This lock screen is usually annoying you have to press an additional button to get to the actual registration.



In Windows 10, you can disable the lock screen that appears in front of the login screen. This saves you one click and goes directly to the mask to select the user name and enter the corresponding password. We show how it works. This will disable the lock screen. If you want to display it again later, you do not necessarily have to delete the newly created registry entries. In this case simply click Turn On or Off to reset the value of NoLockScreen to 0 . Incidentally, setting Group Policy does not do anything else.