The solution to not always start Windows 11, 10, 8.1, ... programs as administrator, or to run them in admin mode with example!




Caution!

There are also programs such as Windows regedit.exe  that must be started in administrative mode!




1.) Deactivate Start as administrator under all Windows operating systems!
Please click with the right mouse button on the corresponding program, which is always started in administrative mode. The context menu appears

by  right-clicking with the mouse, here simply select the menu option  Properties.

Then the window with the properties of the Windows program in question appears!

Here just click on  Compatibility  and deactivate the check box
" Run the program as administrator"  

After that, the Windows application or program will no longer be started in administrative mode!




(Image-1) Windows program always starts as administrator?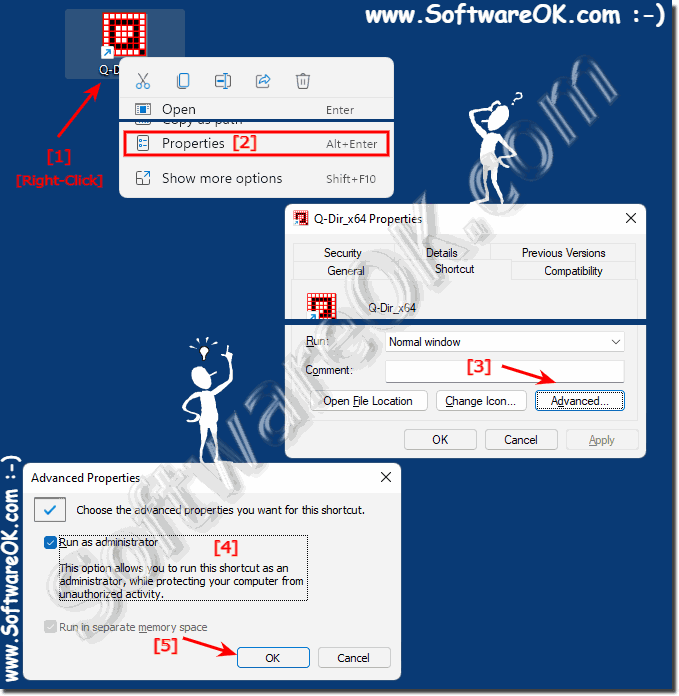 2.) What should be considered when always starting (activating) as administrator! 
When a program starts in administrative mode, it requires increased access rights, for example to make system changes and settings, for driver installation, or for software installation.  

This admin account can be a local account with full access to the computer and can make the changes you want. 


3.) Why do some programs always start in administrator mode?
If a program always starts in administrative mode, it cannot be turned off .

This program needs the increased access rights because it is about, for example, system changes and changing settings. This is, for example, the task manager, registry editor, user account management, etc.

Without the required increased access rights, these programs cannot do their job. This means that they cannot be started in any other way than in administrative mode with increased access rights.
4.) Error or bug, only one program can be started?
Applications that are started in administrative mode sometimes only allow one application per session; this query is also made in the program itself, if an application or program of the same name is already running, the program itself prevents a new program window from being started.

The reason is that the changes do not overlap, which is sometimes important when there are system changes. 

However, some programs have the option to be started multiple times.




The FAQ or the brief explanation here is suitable for Windows 11, 10 , 8.1, 8, 7: Pro, Home, Enterprise, Basic, Premium, Professional, Starter, Ultimate, Windows-Server 2019, 2016, 2012, i.e.
almost all Windows operating systems. Even under Linux, MAC and Android there are options to edit the system with increased access rights or to make changes.



FAQ 85: Updated on: 4 September 2023 10:19