It is very good that
the computer is protected by Windows

, this message appears if Windows does not know the software or not certified publisher!

Content:





Why the publisher is not immediately displayed is probably a bug in Windows 10, why you only have to click on the label "More information" is the question of all Windows users, only then can you see the publisher in the changed displayed information questionable, it is usually the same with certified programs!






1.) Work well protected with Windows! 


If you have not downloaded the software from dubious sites and the manufacturer knows them
can you confirm this by clicking on more information. ( ... see picture 1)

Then click on Run anyway! (... see picture-2)

See also:
► Warnings Viruses and Trojans, it always comes, why?
► Excluding a folder from the Windows 10 Defender, but how?



But beware!

Certified does not mean at the same time safe, or moral, or ethical. Because your computer could be garbed with Addware, or other Trecking Tools. Addware programs are not viruses, but annoying!




(Image-1) Windows Protect Your Personal Computer!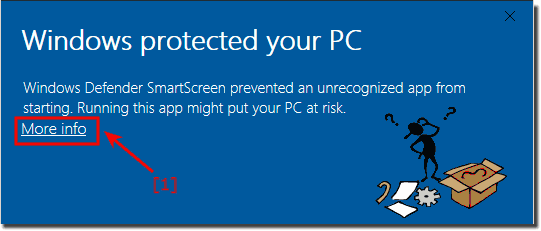 (Image-2) Windows Run Protect Software on the PC!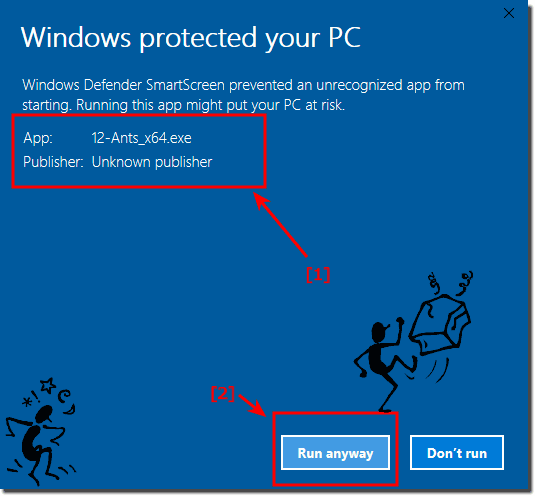 2.) Why protection on a Windows computer?
When you get a new computer, ergo computer and start Windows 10 for the first time, the antivirus that is already installed on the device is the standard security application, so to speak.
The Windows 10 Defender is an Antivirus Progi, but is already installed and can be used at any time without hesitation.


If you want to use Windows Defender as an antivirus, for God's sake, uninstall all other antivirus programs because they are no better and possibly no worse.
But you definitely have to choose an antivirus here. 

Windows 10 Defender Antivirus software activates automatically without asking for permission because most users underestimate the importance of computer security.
You may be asked to restart the device if any updates are installed, they may also happen several times a day, even if you haven't installed anything new yourself.
You can see it as a prophylactic, ergo preventive strike against the hacker attacks, the whole thing is good, even if the system and computing power is very stressed and you have never had a virus on your computer. 
If you have the latest and updated Windows 10, it is no longer possible to use Microsoft Security Essentials, but you are also lucky because you do not need it anymore because you already have the curious Windows 10 Defender, yours System
protects to the same extent.

It protects you against possible attacks from the network and indirectly protects the network and other computers, against attacks that could be caused by your computer if it is infected.

Ergo!
A win-win situation! 

But it is really the case that if you look around the internet wildly and install various programs, the damage can be great.
And you partially reinstall Windows 10 force, but this is not so wrong with some computers!
3.) What needs to be considered with all-round protection!
One should not forget that all information collected by Windows Defender is encrypted and transferred to the Microsoft server.
And then, according to Microsoft, saved in a safe place.
According to MS, everything is done to avoid that you can be identified directly as a user, such as through your personal data (your name, email address, account ID, ...).
You can also use the Microsoft Update to keep Windows Defender virus definitions up to date on your Windows 10 computers.

Of course, it is important that you update definitions regularly to ensure protection.
You can configure definition updates to meet your needs, but you should also be clear about everything.
As such, the Windows Defender from Microsoft, which is included as standard in Windows 10, is a good solution to combat viruses, Trojans and malware, the functions for which are very extensive and are provided by Microsoft as an inclusive service.

But you should be aware of the whole!

Here you will find further help for Deffender and setting options:

... Help for protecting your computer with Windows Defender!


FAQ 9: Updated on: 18 June 2021 13:42