The very rare case that when updating Office and - please wait for a moment - there is a crash and error message from MS Word!


What can I do in such a case is the question of whether data may be lost under MS Windows and Microsoft Office!


 

Content:



1.) Method-1: Troubleshooting, start + restart several times!
Here you should restart Word or one of the MS Office programs up to 3 times, if it doesn't work, 
then restart Windows correctly and also start a MS Office program!

If it works everything is fine!




(Image-1) Office is being updated. Please wait a moment. Crash and error message!


MSACCESS.EXE - application

error WINWORD.EXE - application error EXCEL.EXE - application

error OUTLOOK.EXE - application

error


The application could not be started correctly (0xc0000142). Click OK to close the application.

[OK]




2.) Method-2: Troubleshoot, initiate repair of MS Office!


1. Windows + R key combination 
2. Command appwiz.cpl



3. Mark MS Office

4. Right-click and select the "Change" option.

5. In the new window, select either Quick Repair 

6. Or the online

repair from 7. Click on "Repair".

(Image-1) Easy repair the Microsofts Office 365, 2019, ...!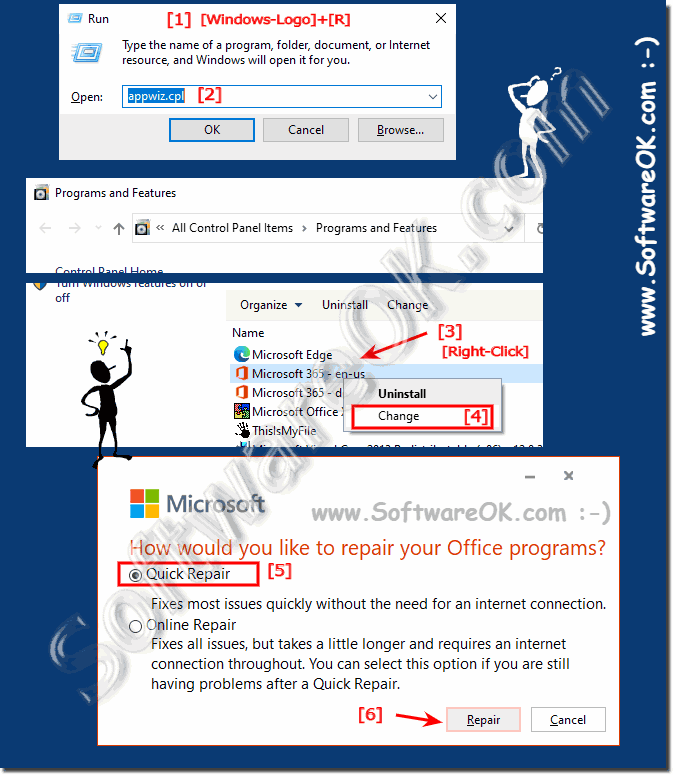 3.) Why does Microsoft Office behave like this?

As is so often the case, it is an unfortunate coincidence or overlapping of various actions on the system, because the operating system is a multitasking tool that also performs other tasks in the background. It can also be disruptions in the Internet that lead to such errors, fortunately it is not a problem because most errors in Microsoft Office packages can be fixed quite quickly and do not require any textbooks or expert knowledge regarding Microsoft Office products.




Other causes include:

It is likely that the crash and error message are due to a problem with the update process. There may have been a problem downloading or installing the updates, or the updates were not compatible with your version of Office.

There are various reasons why Microsoft Office may crash or display error messages. Some of the most common causes include:

Insufficient system resources:
If your computer doesn't have enough memory, disk space, or processing power, it can cause problems with Office.

Incompatible hardware or software:
Installing a new hardware component or software may cause incompatibility issues with Office.

Corrupted or Corrupted Office Files:
If Office files are corrupted or corrupted, it may cause problems with the application.

Software conflicts:
If you use other software that conflicts with Office, it may cause problems with the application.

To fix this problem, you can follow these steps:

Make sure your computer has enough system resources. You can check this by opening Task Manager and monitoring your computer's performance.

Check that your hardware and software are compatible with Office. You can do this on Microsoft's website.

Repair or uninstall and reinstall Office. You can do this from the Control Panel.

Uninstall any software that might conflict with Office.



Here are some more tips to prevent Microsoft Office from misbehaving:

1. Install updates and security patches as soon as possible.
2. Back up your Office files regularly.
3. Use a virus scanner to protect your computer from malware.
4. Download software only from trusted sources.





FAQ 33: Updated on: 16 October 2023 05:03