The practical color printing under Windows sometimes needs to be switched to black and white under Windows, here is the quick solution for this task!

Typically, when you print a document with color images or text in black and white on your color printer, your printer also uses color ink to print anything that isn't black or white. If your color ink cartridge is almost empty, or if you only need a black and white document, black and white printing on Windows is the best solution!



Contents:
1.) Switching to black and white printing on Windows?
1. Please open the printers directory under Windows

2. Shortcut Windows logo + R and the command: shell:PrintersFolder

 

3.

Right-click

on the printer to

open

the printer settings!

4. In the printer settings on

"Paper/Quality"

5. Switch from

"color"

to

"black and white"

  printing!

(

... see Image-1 Point 1 to 7

) 

PS:

If you can't find a black and white option, or if the document to be printed uses images instead go to the grayscale print option. The black and white print also has an artistic aspect and sometimes gives the print even better expression than in colour!    

 

(Image-1) Switch from color print to black and white printing under MS Windows OS!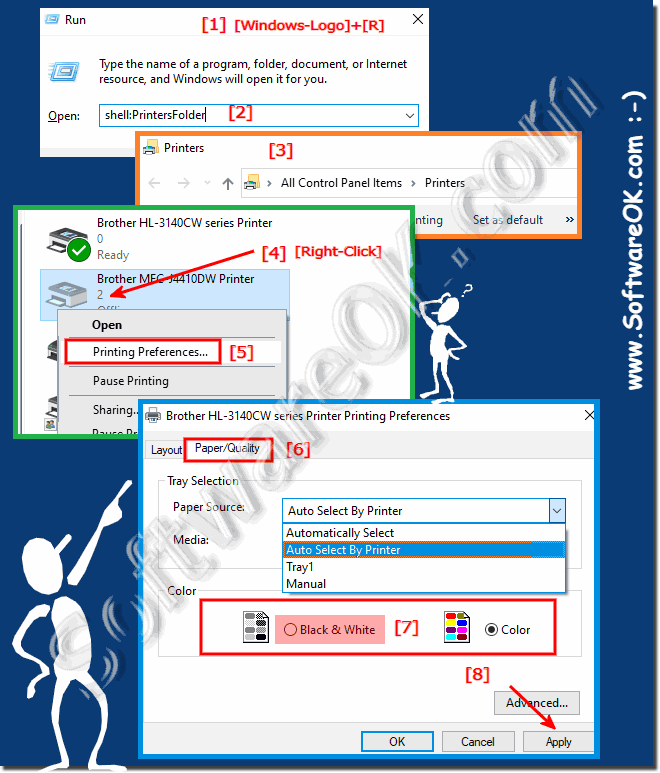 2.) What should I consider when printing in black and white on Windows?
There's nothing major to note other than the fact that the document is printed in black and white. It is important that the correct printer driver is installed. The print settings can vary from printer to printer.









Info:

When printing black and white on Windows, there are a few things to keep in mind to ensure your prints have the quality and efficiency you want. Here are some important considerations:






Check printer driver settings:
Make sure you have selected the correct printer settings in your printer's driver settings. This includes selecting black and white mode or grayscale mode, depending on which option your printer offers. If you want to print in black and white only, select the appropriate option.

Select quality level:
Depending on the printer type, you can adjust the print quality. For simple documents and drafts, you can choose a lower quality to save ink or toner. For important documents or images, you should choose a higher quality.

Document preparation:
Make sure the document or file you want to print is already in black and white or grayscale. If you want to print a color image that needs to be converted to black and white, you can do this in image editing software to ensure the result meets your expectations.

Check toner/ink:
Make sure your printer has enough toner or ink to print the document you want. Low toner levels can affect print quality.

Paper settings:
Check the paper settings to make sure they match your chosen paper. Some printers offer settings for different paper types and sizes.

Use preview:
Before you start the final printing process, use the print preview feature to make sure the document will print the way you want it. This can save you time and resources.

Manage print jobs:
Monitor your print job, especially when printing multiple pages. Make sure the printer is working smoothly and that the pages are coming out in the correct order.

Regular maintenance:
Perform regular maintenance on your printer to ensure it is running smoothly. This may include cleaning the printheads or replacing consumables.

Pay attention to environmental aspects:
If you want to consider environmental considerations, you can enable duplex printing (printing on both sides) to save paper. Additionally, you should use recycled paper when possible.

Update drivers and firmware:
Make sure you have downloaded the latest drivers and firmware updates for your printer from the manufacturer's website for performance improvements and bug fixes.

By following these tips, you can ensure that your black and white printing on Windows is efficient and of high quality.



FAQ 10: Updated on: 6 October 2023 14:06