Yes, you can use command line to save or load the desktop icons layout directly from a file! From DesktopOK 1.57 an higher.



For example SAVE TO FILE:
DesktopOK.exe /save /silent c:\icon_lay.dok
OR:
DesktopOK.exe /save "c:\long path name\icon_lay.dok"

Example LOAD FROM FILE:
DesktopOK.exe /load /silent c:\icon_lay.dok



/silent

 = don't show error messages 

New from ver 5.65
/spacing = save icon spacing
/size = save icon size

From version 6.51!
/report = Displays a list of unresolved / found symbols
in conjunction with /load
For example:

DesktopOK.exe /load /report c:\icon_lay.dok



Info:
The file name must end with *.dok. This is a teeny overwrite protection for the other system files.

From Version 6.99
(date, time and resolution)
/save c:\save_dok\_date_time_res_.dok
or (date and time)
/save c:\save_dok\_date_time_.dok

From Version 7.11 silent install


/silent -?install



See: ... Save the icons layout with date and time format on the command line!


(Image-1) Save the desktop icons layout on all Windows OS!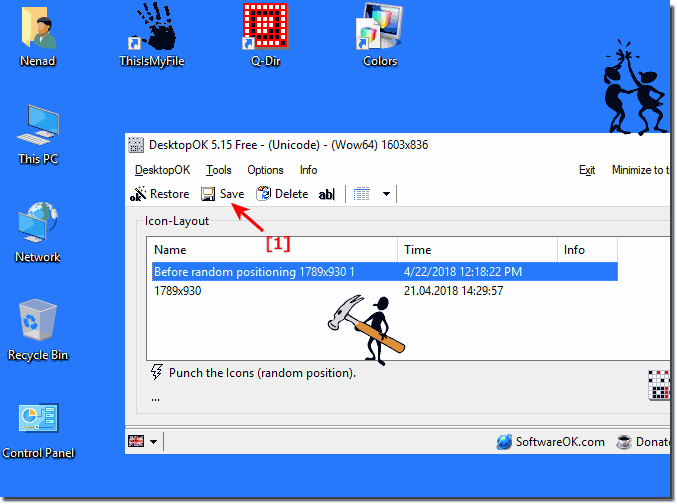 You can save the desktop icons layout not only in Windows 10, you can also save the desktop icons on Windows Server 2016 and 2012.

Info: Windows allocates on many computers the desktop icons without asking and randomly reat. Especially on large screens and with many neatly arranged desktop icons that is pretty annoying. But fortunately there is a remedy. Here are the solution to keep the icons in the right place.

The problem with the unwanted rearrangement of the desktop icons has been known for many versions of Windows . Whether XP, Windows Vista, Windows 7 or Windows 10 . Tumbling Desktop Icons are almost as old as Windows. It's amazing that Microsoft still has not found a reliable solution for it. After all, the desktop is the most widely used Windows component.



Info:

It's easy to save or load the icons layout directly from the command line or cmd. The solution is not only written as a instruction for Windows 10, you can use this example to create via CMD command line to save the icon positions on the desktop via cmd  as a solution even on earlier versions of Microsoft's Windows operating systems, whether it is a Windows desktop computer, tablet PC, Surface Pro and Go, or even a server operating system, it has been tested and successfully 

verified

 at all .




FAQ 4: Updated on: 3 May 2020 09:57