The solution is very simple to get that 
Windows 11, 10, ... etc. Run dialog to start!

You don't have to use the Run dialog alternative  to run simple Windows commands, the standard Run dialog (Windows + R) is usually sufficient! 

Content:


1.) Start the run dialog on all Windows desktop and server operating systems!
Simply the Windows + R shortcut / hotkey use

Those who work at Microsoft Surface Pro, or other mobile tablets, should a Windows 10 Start Menu make entry!

See: ►  Desktop shortcut for the run dialog under Windows 10 (commands)?



(Image-1) Windows run dialog find and start on MS all OS!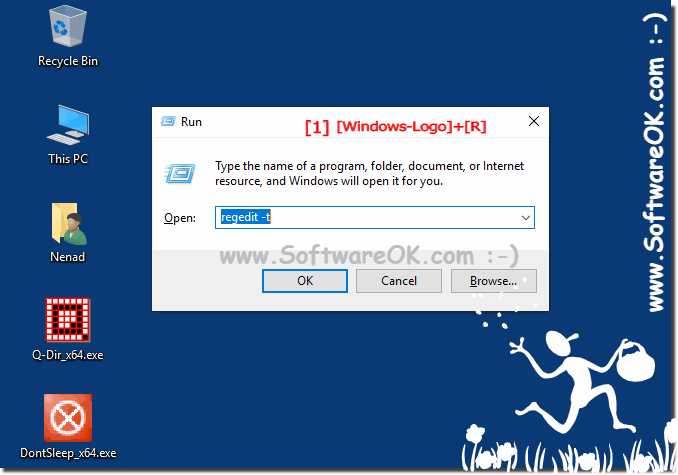 Run is a Windows function that was first introduced in Microsoft Windows in 1995 under Windows and it has successfully asserted itself up to Windows 10 and Server 2016, although there are third-party alternative free run dialogs and it is included in all later Windows versions . Executing enables the user to start programs by entering names, or to open complete program paths!


2.) How does the Run dialog know where the applications are on your system?
The Run dialog box can be a simple and very useful way to open programs on your computer. 

When you run a command in the Run dialog box, the system checks the registry keys for app paths here:

HKEY_CURRENT_USER\SOFTWARE\Microsoft\Windows\CurrentVersion\App Paths

and

HKEY_LOCAL_MACHINE\SOFTWARE\Microsoft\Windows\CurrentVersion\App Paths

For example:

HKEY_CURRENT_USER\SOFTWARE\Microsoft\Windows\CurrentVersion\App Paths\Firefox.exe

The default values ​​here have the full path to the executable file. If it is not found, every folder contained in the PATH will be displayed, while in the CMD (the Windows command prompt) does not refer to these registry keys, but only searches the PATH.



FAQ 72: Updated on: 24 July 2021 13:29