The malware / Win32 or Trojan.Win32 is malicious software that Win32 stands for MS Windows operating system!

So this malware was specially developed for Microsoft Windows to damage Windows systems. There is also the abbreviation .gen for Win32 . For example, Win32 Malware.gen is a so-called generic threat, or a suspicious file retrieved by an antivirus scan that appears to be malicious but does not match any of the known definitions in the antivirus software's database.


A warning from an anti-malware program


Therefore, a warning from an anti-malware program for a Win32-Malware.gen detection indicates that there is a 32-bit file on a Windows operating system that should be flagged for further examination. Thus, an infection commonly known as Win32 Malware.gen is a heuristic detection that aims to indicate the presence of a specific Trojan horse for Windows PCs.


.Gen is not always malware


It is also possible that files reported as Win32 Malware.gen infection are actually clean, in which case no further user action is required. However, if it's malicious once it's installed on a computer, the file changes the system settings and registry, eventually leading to overall poor performance and a number of unwanted security issues.


The malware can also contain additional malicious code!


These act through a back door for remote access to the affected device. What is particularly annoying is the fact that this threat can reinstall itself multiple times on the same system if its core files have not been deleted. 



Example identifier of an infected file!


(Image-1) Malware.Win32 or Trojan.Win32 as Windows malware!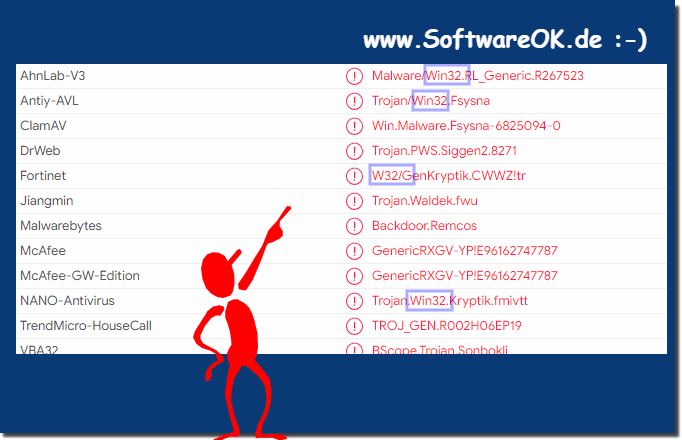 Malware / Win32.RL_Generic.R267523
Trojan / Win32.Fsysna
Win.Malware.Fsysna-6825094-0
Trojan.PWS.Siggen2.8271
W32 / GenKryptik.CWWZ! Tr
Trojan.Waldek.fwu
GenericRXGV-YP! E96162747787
GenericRXGV-YP! E96162747787
Trojan.Win32.Kryptik.fmivtt
TROJ_GEN.R002H06EP19
BScope.Trojan.Sonbokli
..... etc

FAQ 152: Updated on: 11 September 2022 09:27