# About # History # Eula # Screenshots # Faq # Download (526 KB) #

DE

EN

Update on: July 19th 2017
Suitable for Microsoft : Windows 10, Windows 8.1, Windows 8, Windows 7, Server 2000-2016, XP, Vista, x64/x32/x86



A little text to the folder types;)

It makes no problems to upload images or other files in Q-Dir via "Microsoft's internal FTP".

For the future I will write Q-Dir internal solution for FTP. I hoped that this MS-FTP solution will be improved, but in Microsoft's Windows Vista and also Seven, this is not happening.

So I hawe to write a little more comfortable and slightly faster FTP client in future ;).

But for "normal" FTP data transfers it is sufficient.

For myself, I have no problems with this FTP data transfer. Only when transfer is larger then 100 files it comes sometimes to hangups.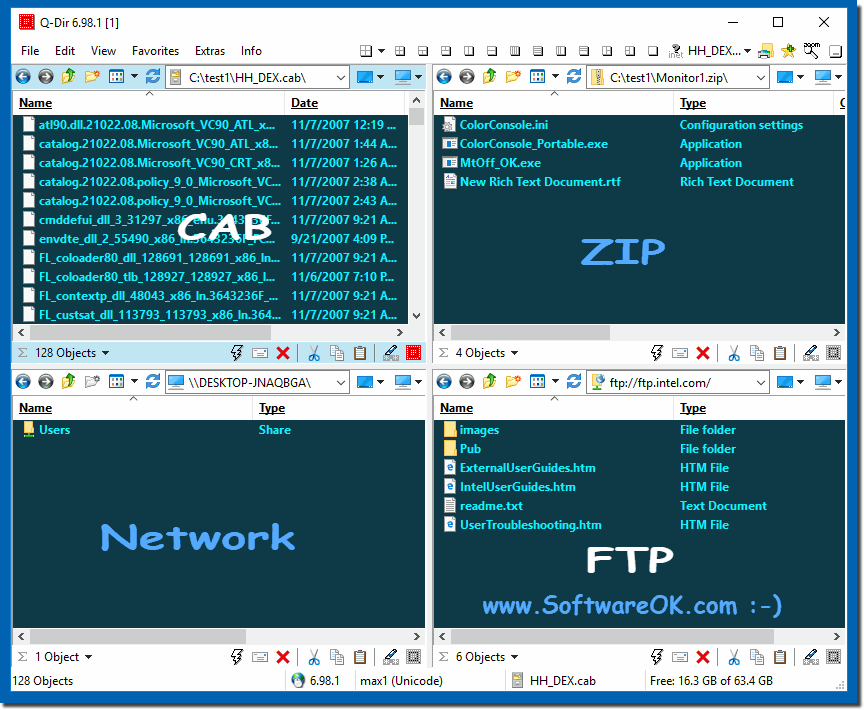 back to Q-Dir « « «

Program Keys: <>Directories, file, organize, manage, manager, images, move, copy, delete, organize, system, disk, directory structure, documents, disk, tree, file, folder structure, structure, scan, documents, explorer>
A good file manager with an amazing Quadro-View technique for Windows.
---
# About # History # Eula # Screenshots # Faq # Download (526 KB) #

DE

EN # Images+ # Info+