To open folders in Q-Dir from MS Windows File Explorer simply activate this option on all Windows Desktops 11, 10, ... etc. and Server OS!
Content:
1.) New tab in Quad Explorer in MS File Explorer / right-click menu!
1. As always, start the
alternative file explorer Q-Dir
2. And please activate this option
Main menu ► Extras ► System ► Add Q-Dir to the shell context menu 
3. If you are now in Windows File Explorer, for example by
right-clicking
on the desktop icon, the Q-Dir icon appears in File Explorer!

(... see Image-1 Point 1 to 5)


(Image-1) Add Q-Dir to the Windows File Explorer folder context menu!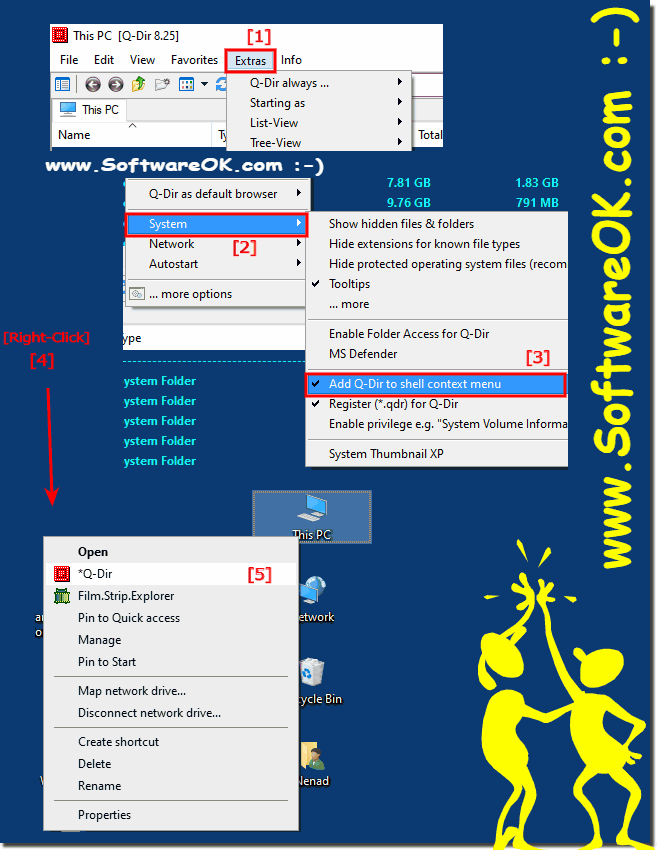 Info:
Why not? Simply relieve MS Explorer when managing important documents with Quad Explorer. For many Microsoft Windows users, it is an important way to relieve the Windows File Explorer through the
Quad Explorer
when opening the directories and managing folders, documents and files . In this way, it is possible to manage documents and images on Windows without burdening Windows Explorer.

2.) More tips on tabs, Register and Co.!
Tabs are very popular in Quad Explorer for Microsoft Windows, for whatever reason, here is more information about tabs that will help you more or less!