Open the screen settings in Windows 11 here it is easy to make the screen brighter or darker!
Without having to resort to practical external solutions, such as the ► 
Screen Brightness Manager for Windows
, you can make the screen brighter or darker in Windows 11!
Contents:
1.) Set the screen brighter or darker directly!
1. Start 
Windows 11 Settings
 (
Windows + i
)
2. Go to ► 
System
3. Scroll the right side to ► 
Display
4. In System / Display scroll to
Brightness
6. And adjust the screen brightness to suit your needs
(
... see Image-1 Point 1 to 6
) 
PS:
When your PC goes into automatic sleep mode, the screen also switches itself off, which is also logical, because no image signal is sent and the screen is very dark. However, this fact has nothing to do with the screen brightness control, it's just the
energy saving options
!   
(Image-1) Adjust the screen brightness controls on Windows 11!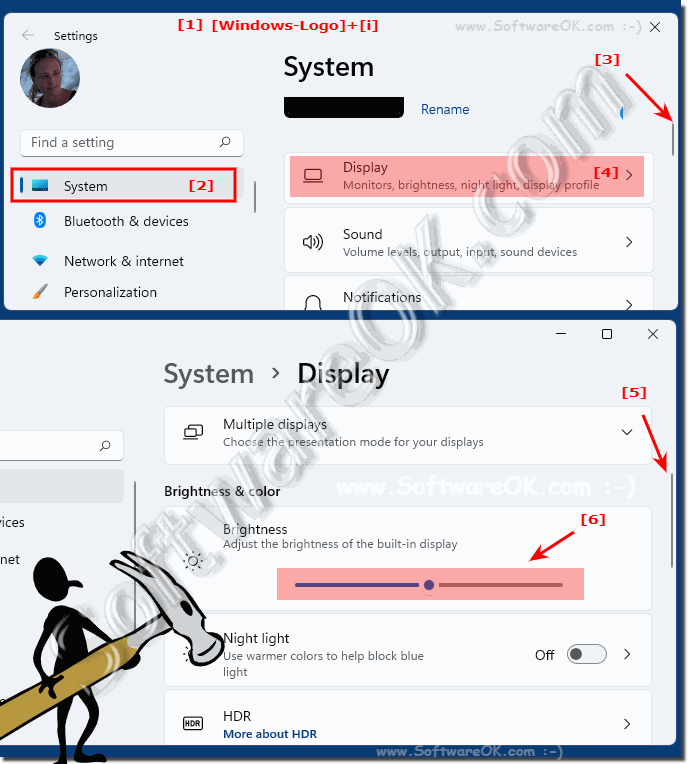 2.) More tips on screens and the like under MS Windows!
The screen is indeed one of the most important components or 
peripherals
on MS Windows desktop operating systems, at least for sighted people. Here you will find other helpful links with tips on this topic!