You can check how much RAM you have installed in the system information, 4 GB ist for most Windows 10 and 11 OS a good solution!
How big is Windows 10, size on disk after install on an partition
, an option is for example the Microsoft website. There you will find a detailed overview of the minimum system requirements for the operating system on the Windows product page. If you have not purchased Windows digitally, you will generally find the requirements on the packaging as well.
A Windows 11 x32 version is not available!
As applications become more and more memory-hungry, computers with low memory (RAM) quickly reach their limits. Because no matter how fast the processor or fixed memory work too small a measured memory slows down the whole computer. For a brisk office computer, it should therefore be at least eight gigabytes of RAM.
Content / Solution / Tip:
1.) Find out the installed Windows 10 memory!
Please start eg open the 
► Windows-Logo+X ► ControlPanel ► System
 in Windows-10!
or direct: 
► Windows-Logo+X ► System
Tip: 
Windows-Logo+X
  is the keyboard shortcut 
or also via: 
Keyboard shortcut
[Win-Logo]+[R]
, then easy type the command 
control.exe /name Microsoft.System
 and confirm the command with 
[ENTER]
And now, you can see in the ControlPanel/System the installed Memory on Windows-10!
(Image-1) How much memory is on my windows 10!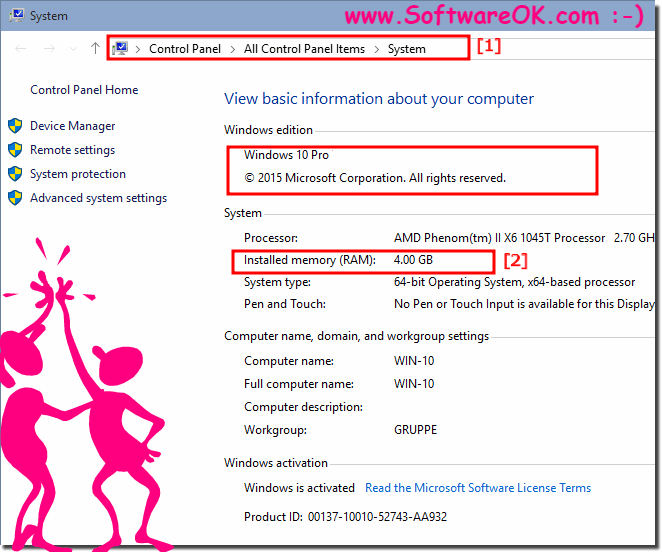 If you are not sure how much RAM is installed in your computer, there are several ways to find out. For example, you can use the system information to find out how much RAM you have.Open the Control Panel and select the category "System and Security". There you will find the item "System". If you select this, you will get an overview in which you can see, among other things, how much RAM you have installed.



2.) Windows 10 and memory Links!
Info:

However, retrofitting an older computer may need to consider memory management limits. Computers with outdated Windows XP or Windows Vista, and the 32-bit versions of Windows 7 and Windows 8 can only manage 4 GB of memory. Also Windows 10 can drive in the 32-Bit-Version according to only 4 GB. Mostly the speed is higher, if instead of a large two smaller memory slots. Thus for example twice 16 GB instead of once 32 GB. The experts also recommend to pay attention to the correct installation. In most cases, the memory slots intended for pairwise installation are marked in color.