It's easy to make an administrator account to a standard user on Windows 10/11 Home and Pro, and vice versa!
If you need to allow or restrict user control on your PC, you can do this quickly by changing the account type.
No Windows 10/11 manual is required to learn how to do it on Windows 10.
Everyone knows the
local user and group manager
who is not included in the home version, or how to
activate the system administrator
 , but it is even easier if you only want to convert / restrict an existing administrator back to the standard
user
!
Make an administrator account a standard user in Windows 11, 10, ...!
1. Use the key combination
Windows Key + R
to open Run.
2. Enter the command 
netplwiz
3. Select the Administrator user account
4. Tap the Properties button .
5. Click the Group Membership tab .
6. And make the administrator to standard user.
See also ►► 
Quickly create User via command prompt
!
(Image-1) Make an administrator account to a standard user on Windows 10!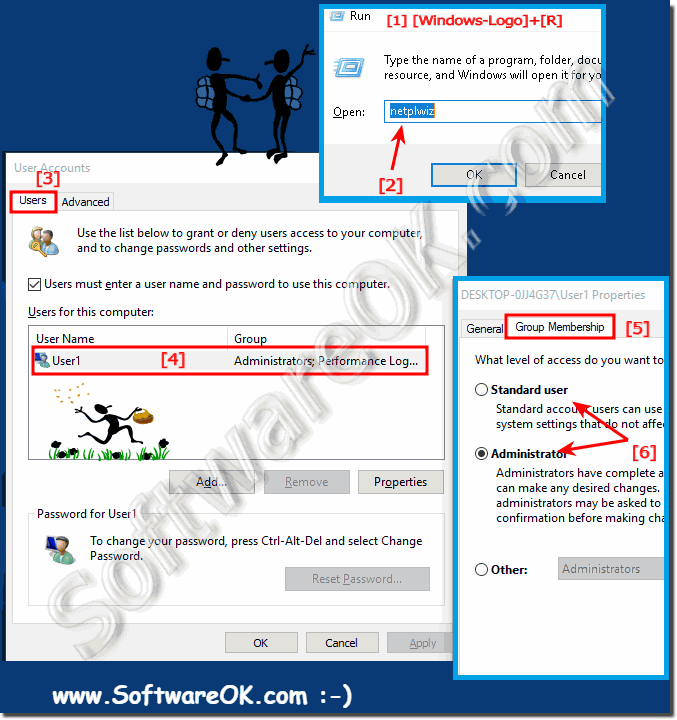 Info:
Everyone knows that Windows 10 offers two main types of accounts for users, including administrator and standard user, each with different permissions for using a PC.
The administrator allows complete control.
This means that users can change settings globally, install apps, perform elevated tasks, and do pretty much anything else.
On the other hand, the standard user account type is more restrictive.
Users with this type of account can work with apps, but are not allowed to install new apps.
You can change settings, but only settings that do not affect other accounts.
When an app needs a raise, they need administrator credentials to complete the task.