Update on: 22 June 2020
Suitable for : Windows 10, Windows 8.1, Windows 8, Windows 7, Server 2012-2019, x64, x32, x86

Get Window text is a very small Windows program with which you can read window texts and contents super ease!


Sometimes you need the text from various Windows error messages to send this error message or a certain window text content to someone via email. If a simple Windows screenshot is not enough, you are happy with this window text reading function. It does not require any C ++ programming skills or administrative IT expertise!

As a portable Windows application, you can easily use it on a USB stick on any Windows operating system and always have it with you, the x32 version also has support for x64 and x32 Microsoft's Windows operating systems!


Key functions:


◆ Fast reading out of the window texts 
◆ Optionally ready for use in the to-tray area
◆ Put the text to the windows clipboard
◆ Reading of list fields, selection boxes
◆ Reading of complete directory structures
.... etc.


Other options and specifications

◆ Very small program
◆ Low CPU usage
◆ Low RAM requirements 
◆ Optional translation function
◆  Portable
◆  Multilanguage
.... etc.



The first start from the window Read text tool!


When you start the window on your PC for the first time, an instruction is immediately displayed on the screen.
You can start reading window texts immediately.
You can also use the clipboard button to move the read text directly to the Windows clipboard. 

The user interface can be displayed in German or English.
Of course, this has no influence on the function of the window text reading tool!  


(Image-3) Query Windows texts from windows and put them on the clipboard!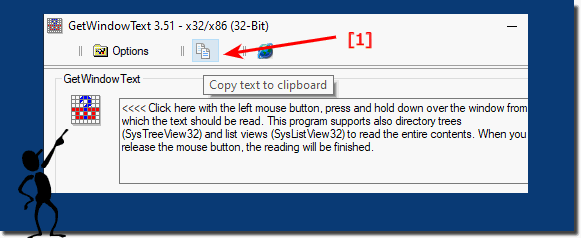 How the window texts selection tool works on Windows!


The reading can be started by clicking the left mouse button on the button with GetWindowText Icon and holding down the left mouse button (drag).

Then simply hold the mouse over the window from which the text is to be read.

Almost all texts, such as those from Edit, Static, Groupbox - Controls, etc.
are read out. Directory trees (SysTreeView32) and list views (SysListView32) are also supported. The complete content is read out here.

The Reading will be stopped when the mouse button is released.



(Image-1) Query / read out Windows texts from windows!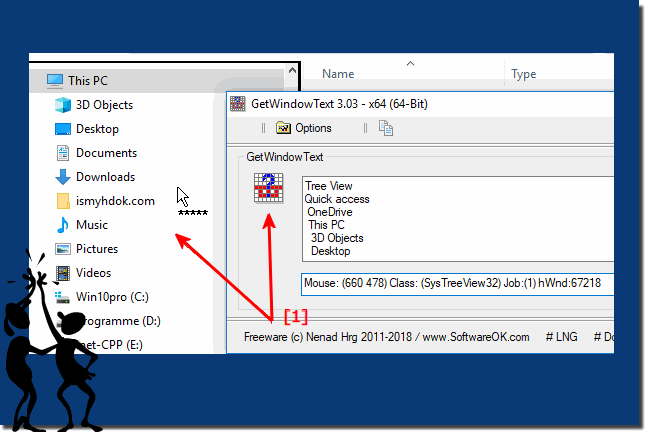 The installation of the window text selection tool on Windows!


The practical window text reading tool on Windows does not need to be installed.
Simply place it on the desktop or copy it to the USB stick for portable use.
So you can read other computers or texts on the go.
You can also pass it on to friends, relatives and acquaintances who are interested in benefiting from the window text selection tool on Windows forever. 


The use of window content reading tools!
Well suited for administrators and webmasters but the window content reading tool is also suitable for curious users and
standard Windows users
 and
Windows 10 beginners
, or simply tested out of curiosity whether the window content reading tool works , since it does not require IT expertise, it is suitable for all Windows users.
# GetWindowText Versions History
New in version 3.66 // 22 June 2020
Bugfix: If the standard system language for supporting multiple languages is recognized
General improvements in the GetWindowText Tool for all Windows OS
Important update of the language files
Many thanks to the translators for the 27 languages in the GetWindowText



New in version 3.51 // 21 May 2020
Small adjustments in GetWindowText for all Windows OS
And now also in Irish language

Many thanks to The Irishman for the Irish language



New in version 3.34 // 16 April 2020
Bug fix in GetWindowText for the action "Copy text to clipboard"



New in version 3.33 // 8 April 2020
Small fixes and retests for Windows 10 Build 2004 / April 2020
Update of the GetWindowText language files



New in version 3.31 // 28 October 2019
Small improvements and update the language file
Testing and Verification for Windows 10 November 2019 Update Build 18362


... complete Versions History
# GetWindowText is multilingual and a popular program worldwide:
Program Keys:
Supported MS Windows operating systems:
The window content read out tool is very small and can be used on: Windows 10, Windows 8.1, Windows 7, Windows Server 2019, 2016, 2012, Home, Business, Edition, 64-bit & 32-bit edition not only on Windows 10 !


Can I also use it commercially in the company?
The window content selection tool can also be used commercially in the business area free of charge, without restrictions! 


GetWindowText  is Listed at:


www.bytesin.com // www.softpedia.com //  majorgeeks.com // www.portablefreeware.com // www.freeware-base.de 
// alternativeto.net // www.freewarefiles.com // www.malavida.com // itigic.com // programosy.pl 
// routerunlock.com // thewindowsclub.com // apps4win.com // www.tahaj.sk 
// download.cnet.com //  www.portablefreeware.com // www.guidingtech.com // www.nirmaltv.com 
// www.snapfiles.com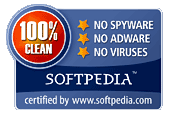 * GetWindowText for Windows read out the window text on all OS!
---
Info+ # Thanks+