The startup folder in MS Windows 10 and 11 is a good way to auto start the programs with Windows 10 or 11, here is the solution how to find it!
1.) Find and Open the Startup Folder!
The best way to open the Startup folder in Windows 10 is with the address shell:startup, you can enter this path in address bar of MS Explorer. 
Or
use the Run-Dialog Box
[Windows-logo] + [R] in Windows 10/11 and enter the command
shell:startup
(
... see Image-1 Arrow-1
)
The second startup folder in Windows 10 
shell:common startup
is responsible for all users, when here, an entry is created, or deleted, this is valid for all users on the Windows-10 PC. (
... see Image-2 Arrow-1
)
Here is the alternative addresses, this can you use to create a new Windows 10 desktop shortcut. 
Autostart for currently logged-on user:
shell:startup
=
%appdata%\Roaming\Microsoft\Windows\Start Menu\Programs\Startup
And startup folder all users:
shell:common startup
=
%programdata%\Microsoft\Windows\Start Menu\Programs\Startup
Tip
shell:start menu
= start menu in Windows-10
shell:common start menu
= all user start menu in Windows-10
You can also change 
the entries for auto run in Windows 8.1 / 10 registry
 or 
find installed program files in windows 10 and uninstall it
 in Windows 10 Control. 
Hot Tip:
   ► 
... Run-Command
 ► 
AutoHideDesktopIcons
 ► 
... DontSleep
(Image-1) auto startup folder in Windows 10 current user!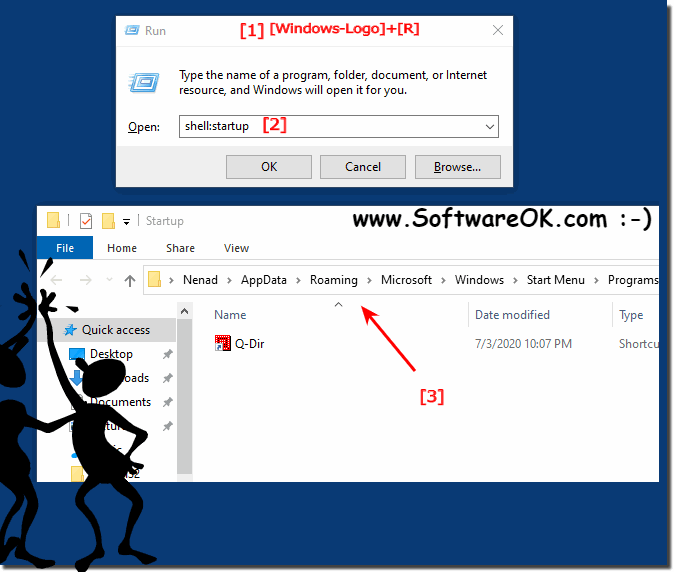 (Image-1) Windows-10 all User auto startup folder!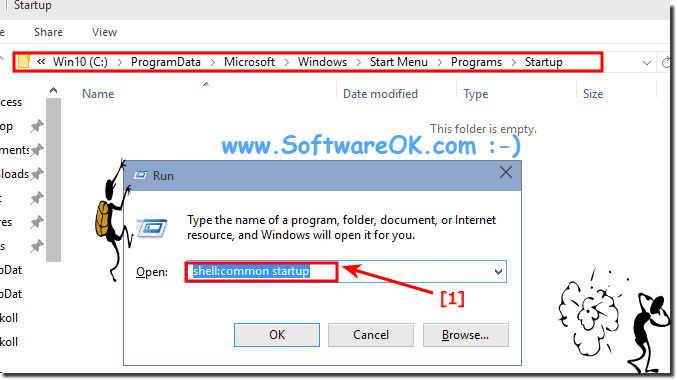 2.) Insert shortcut in all users or user startup folder!
You can also make an individual file, such as a word-processing document, open automatically by dragging a shortcut of the file into the
Startup folder of Windows 10
.
►
 Auto Run a program when Windows-10 starts, how to?
(Image-3) Shortcut in auto startup folder on Windows-10!

In Windows 10, Microsoft rowed back and presented a more modern start menu. But: The startup folder is still missing, where users could easily put shortcuts that they do not
want to run manually when Windows starts
.

3.) Simple example how to open a website on start up in windows 10/11!
In
startup folder
do a right click (free space) select
► new ► shortcut
In this example enter the address https://www.softwareok.com, to open the website at windows 10/11 start ergo when user login in W10 Default Browser.
(Image-4) Auto-Star a webpage in default Browser!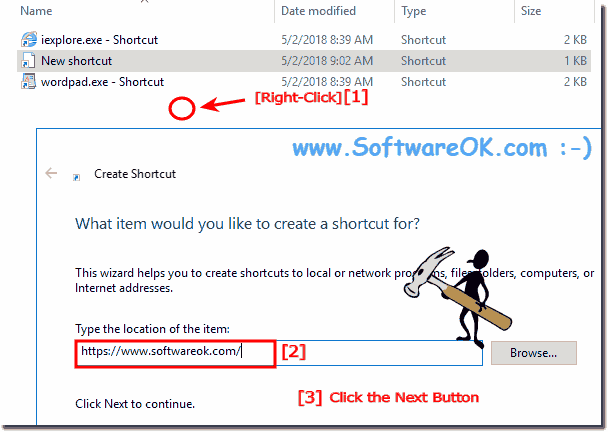 Every time you start Windows 10, a program that is no longer needed is started, which I want to remove from the Startup folder. After the upgrade to Windows 10, I find the startup folder but no more. The easy access to the startup folder in Windows 10!

4.) Example how to open automatically files ergo documents!
Simple Open at Startup a Document or File Location, do a Right Mouse Drag and Drop action! This is example is also for Excel, Word and other Microsoft Office documents!  
(Image-5) auto open document at Windows-10 start!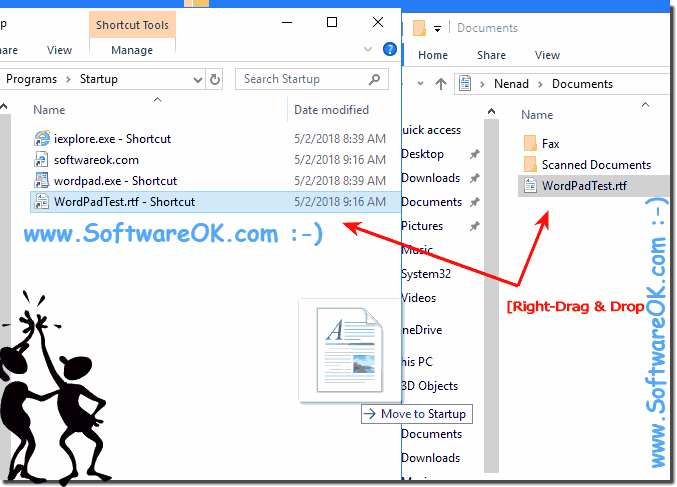 The auto startup folder ergo directory in Windows is a easy possibility and good solution to auto start the programs and apps at Windows login it is suitable on Windows 11, 10, 8.1, 8, 7: Pro, Home, Enterprise, Basic, Premium, Professional, Starter, Ultimate, Windows-Server 2019, 2016, 2012 .

5.) Open startup folder on Microsoft Surface Pro / Tablet Mode!
If work with the
Virtual Keyboard
with and Shortcut Keys problem on the Microsoft Surface and other Windows 10 Tablet PC in Tablet Mode . 
Open the settings via the Windows logo button and type the text:

explorer shell:startup  

or 

explorer shell:common startup
Tap on
"Command" ► 
name
"explorer shell:common startup"
Info:
The solution ergo instruction, example is written for Windows 10 / 11 to find auto startup folder in Windows, However, you can use this example, solution to open the auto startup folder without disadvantages and also use for older versions of Microsoft's Windows operating systems whether it's a Home pr office Windows desktop, to go on tablet, Surface Pro / Go, or even a business server operating system.

 
It is sometimes necessary to use use the autostart, It is a simple yet effective way to autostart it and get in touch with the auto run benefits.